Smartwatch maker Metawatch has just updated its firmware to version 1.4.0, rolling out a number of bug fixes and tweaks but, most obviously, adding three further watchfaces. These can be previewed and selected using a new version of the firm's iOS and Android apps, which were posted earlier this week. Both Windows and Mac OS firmware upgrade utilities are available to be downloaded.
You can get Metawatch's latest firmware, and read the release notes, here.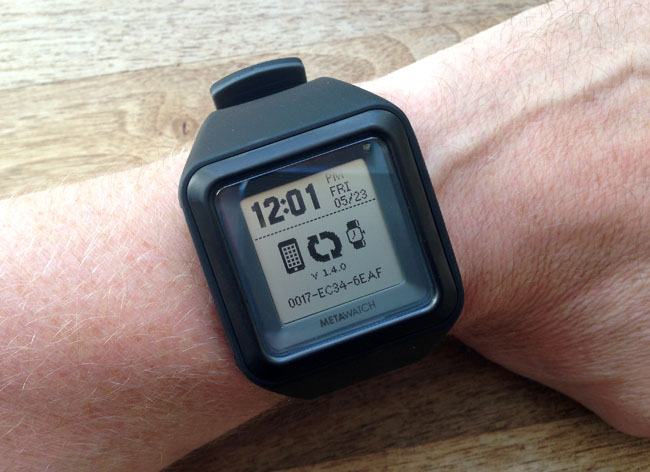 Metawatch's Strata
In many ways, Metawatch's platform remains a better bet for iDevice owners than the better-known Pebble. It delivers more notifications from iPhone to smartwatch than Pebble currently does, and provides more information look-up apps - Weather and Stocks, for instance - than Pebble does on any platform.
On the other hand - no pun intended - Pebble's music remote is still better, it has a huge selection of its own and third-party watchfaces for users to choose from. On Android, Pebble can do Twitter updates - Metawatch can't on any platform. And Metawatch's Android support is poor.
Metawatch's UI remains unpolished too. It now has just four watchfaces to choose from. Its platform provides four screens each of which can present up to four information 'widgets'. But it provides too few widgets to fill the available spaces, so you either have to duplicate some of your widgets or put up with big + signs on the screen in the empty spaces.
Metawatch's hardware - it offers two models, Strata and Frame - is impressive and attractive. Both models look like big-brand products, not Kickstarter prototypes. But the company really needs to make big improvements to its software and to make its APIs available to third-party developers pronto. It has promised to do so, but for how long will its open source code still be "coming soon"?
Contrast that with Pebble, which has an SDK you can download - registration is required - and provisional APIs for on-watch apps and for phone-hosted apps. Pebble claims to have shipped more than 93,000 of its smartwatches in 2013 alone, and has just begun selling its kit through US retail giant BestBuy.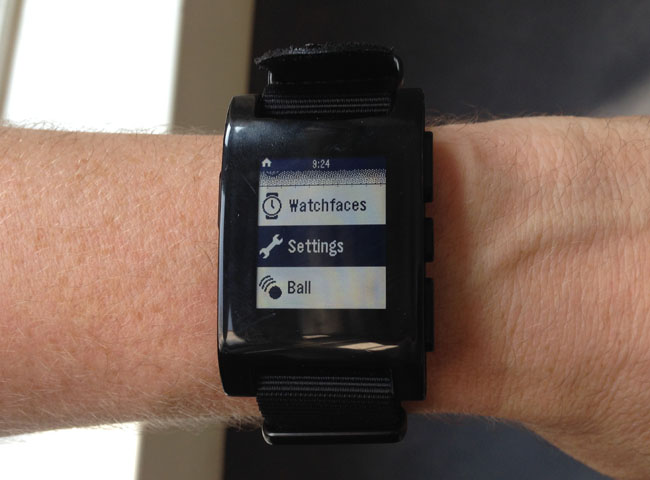 Pebble provides tools for app creators
The Pebble device doesn't work as well with Apple handsets as it might, but Pebble is promising to fix that in a couple of months' time - it's awaiting iOS 7, presumably. That problem is of little concern to Android fans in any case. It doesn't appear to be bothering developers either, if the arrival of iOS native apps like Katharine Berry's httpebble, which allows http requests to be routed from watch to internet via phone, are anything to go by. On Android, Pebble Connect, is based on the same technology.
Online watchface creation tools like Paul Rode's Watchface Generator are springing up to allow non-technical Pebble users to create personalised watchfaces, though there's no shortage of ones they can download.
Establishing a solid user base as soon as possible is crucial for small companies like Pebble, Metawatch, Martian and Agent Watch if they're to keep their heads above water when Apple, Samsung, Microsoft, Google and other big names jump into the pool - if indeed they do. The smartwatch market is still a very long way from maturity, so appealing directly to developers in order to make sure ordinary users can get apps and customisations is critical at this stage.
The likes of Pebble, Agent Watch and Metawatch appeal primarily to techies - there's no evidence yet that the smartwatch is sure to become The Next Big Thing and tomorrow acquire the ubiquity the smartphone enjoys today. Despite a hype-filled forecast from Canalys, a market watcher - five million smartwatches to ship next year, anyone? - there's little sign that existing big-name players Sony and Motorola are making a mint with their smartwatches, despite being market leaders in 2012.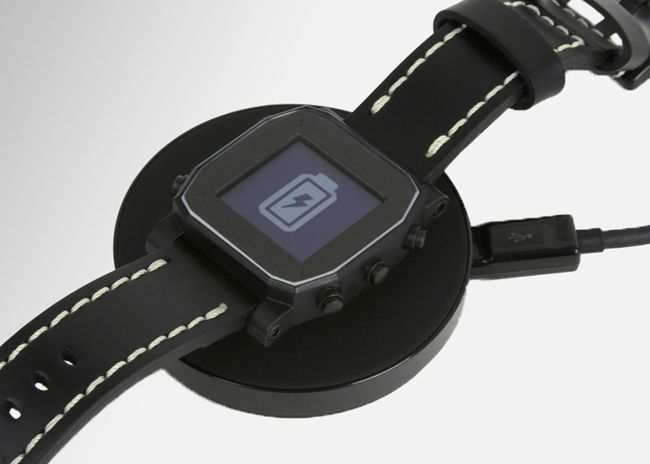 The Agent Watch will charge wirelessly
Gadget boys may love them, but smartwatch technology has clearly yet to truly enter the consciousness of the general public. Of course, neither Sony nor Motorola appear to be doing much to promote their products, so it'll take the likes of an Apple launch and its attendant advertising blitz to slap the product category right in from of consumers. Sony may up the stakes a little when its second-generation product, the SmartWatch 2, goes on sale in September.
Pebble and co can't hope to match Apple's marketing, so they need to focus on getting ahead of the game by creating good tools for coders to write plenty of useful apps to fill out their app stores and provide plenty of options for users switching on to smartwatches.
Pebble has that, with its Mac OS and Ubuntu toolchains. So does rival Agent Watch, which has built its - preview thus far - development tools around Microsoft Visual Studio, C# and .Net. Agent stormed past its own Kickstarter funding target last month with the promise of a wirelessly charged, rugged-look smartwatch. It's not due to go into production until the autumn.
The smartwatch arena is like the early 1980s computer market: there are no standards, and fortune will come to those with with the biggest, broadest software libraries. Phones have taught users that they want downloads. The smartwatch companies that bring punters too few apps will not survive. ®