Data to and from Google's servers now accounts for a quarter of all US internet traffic, according to the latest network analysis by monitoring firm DeepField, with over 60 per cent of all end users and their devices having some business with the Chocolate Factory every day.
"While it is old news that Google is BIG, the sheer scale and dominance of Google in the Internet infrastructure has significant implications on network design and evolution," said DeepField founder Craig Labovitz in a blog post.
In 2010, back when Labovitz was at doing a similar study for Arbor networks, Google accounted for just 6 per cent of internet traffic, which was big, but still behind the largest ISP. In three years, the Chocolate Factory has expanded its reach dramatically, and Labovitz said the figures understate Google's bigger network share in PC and mobile data.
Google's position isn't just down to basic internet traffic, Labovitz said. Mountain View's analytics, hosting, and advertising services are used by over half of US websites and services, all of which adds to "Google's growing and pervasive dominance."
The Chocolate Factory is not the biggest bandwidth hog; that prize goes to Netflix, the report found. Traffic from the video-streaming service peaks at US prime time and during cache-update periods, but in terms of overall network traffic, Google could now be considered bigger than Netflix, Twitter, and Facebook combined, he said.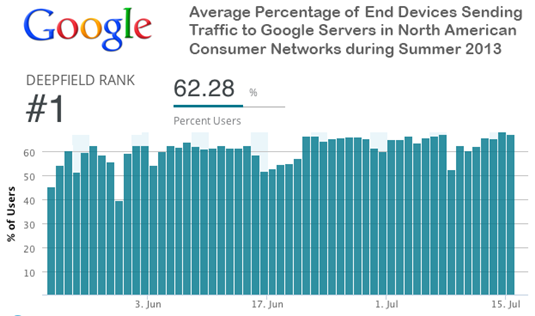 Relentless rise shows few signs of stopping
So what's changed in the last three years? Well, YouTube accounts for a very significant chunk of Google's network traffic in a way similar to Netflix. But Labovitz suggests that Google's rollout of smaller servers to internet service providers, its Google Global Cache (GGC) system, helps account for a lot of the rise.
The GGC servers cache a continuously updated collection of Google's most popular content, and are placed with over half of ISPs in the US, as well as in European and South American networks. This speeds access time, but Labovitz notes the Chocolate Factory is also slapping up data centers at a high rate to feed this edge demand.
What matters, of course, is that Google can turn this traffic into money at a faster rate than its network costs. In last week's financial results, the company reported healthy profits, but also a rise in capital expenditure to $1.6bn and falling cost-per-click revenues. ®