Locked in an acrimonious retransmission-fee battle with CBS Corporation, Time Warner Cable has slipped a new arrow into its negotiation quiver, saying that if CBS blacks out its content from Time Warner's service in New York, the cable company will recommend that its subscribers sign up with the internet-streaming service Aereo.
Aereo doesn't pay retransmission fees to CBS, Fox, or other broadcast-TV companies. Instead, it uses arrays of thousands of tiny antennas to pluck the signals out of the air, then streams that programming to subscribers' PCs and Macs, iPhones, iPads, and Apple and Roku set-top boxes.
Time Warner and CBS have a July 24 deadline for their retransmission-fee negotiations – that's an extension of the June 30 expiration of their previous agreement. The negotiations have not been pleasant; CBS has launched an ad campaign in the New York area and set up a website – www.KeepCBS.com – that features a video of a big-screen TV in chains, declaring that "Time Warner is holding your favorite shows hostage."
Forbes reports that Time Warner has said CBS is demanding a 600 per cent increase in retransmission fees in cities such as New York, Los Angeles, and Dallas. Needless to say, the stakes in these negotiations are high.
Now Time Warner has introduced Aereo into the battle. The broadcast streaming company is backed by billionaire media investor Barry Diller's IAC/InterActiveCorp and others – Diller also sits on Aereo's board of directors – and to call it controversial among broadcast TV players would be an understatement.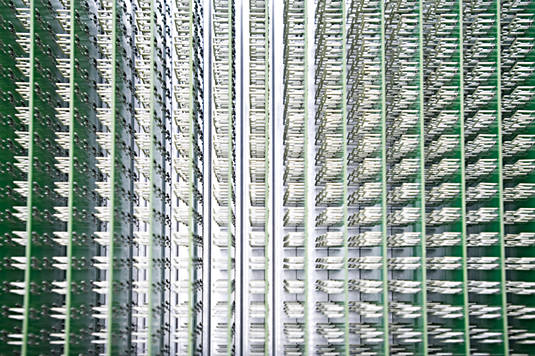 The Aereo antenna array that's upsetting – one might say 'disrupting' – the broadcast-TV industry
Just one week before its March 14, 2012 New York launch – its first market – NBC, ABC, CBS, and Fox requested an injunction to block Aereo's service in that city, claiming that the start-up didn't have the right to stream those broadcasters' copyrighted content. The court, however, denied that injunction.
The broadcasters appealed, but the New York Second Circuit Court of Appeals ruled against them. Just last week, the court refused to rehear the broadcasters' appeal. They did, however, win the support of two judges, one of whom wrote in his dissent that "In my view, however, the system is a sham, as it was designed solely to avoid the reach of the Copyright Act and to take advantage of a perceived loophole in the law."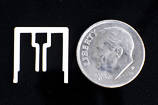 Aereo antenna – actual(ish) size
While all this legal wrangling has been going on, Aereo has been steadily growing. In addition to its New York base, the service is now available in Boston and Atlanta. All of Utah's 29 counties are set for an August 19 launch, Chicago is slated to crank up on September 13, and a total of 22 US cities are planned for coverage by the end of this year.
Aereo is substantially less expensive than cable television. For $8 per month, subscribers get access to 20 hours of programming from a broad range of broadcast television content that's stored in Aereo's cloud; for $12, that amount of programming triples to 60 hours.
"We believe consumers want and deserve a better television experience and our work is focused on delivering the best customer experience with the highest quality technology," said Aereo founder and CEO Chet Kanojia in an email on Monday announcing the upcoming Utah rollout.
Whether that "better television experience" continues to spread across the US and beyond will likely depend upon the skills of the broadcast industry's legal teams – or the powers of their lobbyists – and whether Aereo will soon see an uptick in its New York subscriber base will likely depend on the result of the negotiations now underway between CBS and Time Warner Cable. ®