This article is more than 1 year old
Apple earnings slip, but numbers beat Wall Street estimates
iPhone sales well above most predictions
Apple – unlike its tech-industry compatriots Microsoft, Google, Intel, BlackBerry, and über-rival Samsung – surprised most Wall Street moneymen by turning in slightly better than expected numbers for its third fiscal quarter of 2013, reporting revenues of $35.3bn, net income of $6.9bn, and the all-important earnings per share (EPS) of $7.47.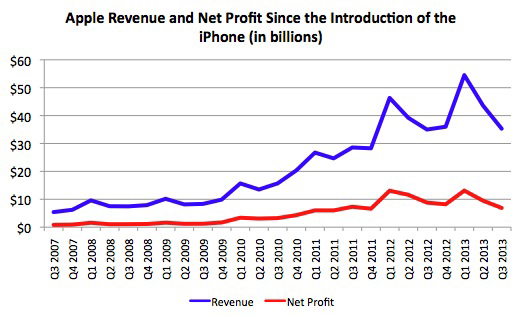 Not that the moneymen were expecting much from Apple this time around. The 48 analysts polled by Yahoo! Finance had projected revenues of between $32.84bn and $36.28bn with an average of $35.01bn, resulting in an EPS of between $6.64 and $8.22 with an average of $7.32. CNNMoney's survey of 59 institutional and private analysts were marginally more optimistic – and closer to Apple's actual performance – with revenue predictions of between $32.84bn and $38.30bn with an average of $35.37 and a median of $35.23, and an EPS range between $6.64 and $8.70 with an average of $7.48 and a median of $7.41. In general, CNNMoney's private analysts were more bullish than the institutional prognosticators.
Apple's revenue guidance for the quarter was between $33.5bn and $35.5bn. By comparison, Apple's earnings in the year-ago quarter were $35.02bn, resulting in a net income of $8.8bn and an EPS of $9.02.
The number of iPhones sold in the quarter, CNNMoney's analysts predicted on average, would be 27.12 million, and iPads 18.04 million. Apple beat those iPhone numbers handily, shipping 31.2 million, but the iPad numbers slipped to 14.6 million sold. In the year-ago quarter, Apple sold 26 million iPhones and 17 million iPads.
It's worth mentioning, however, that the majority of iPhones – in the US, at least, which remains the iPhone's largest market – are sold on a two-year contract. And as Forbes noted, Apple sold 20.34 million iPhones two years ago in the third quarter of 2011, meaning that there was a large number of iPhone owners in upgrade mode. With that number in mind, iPhones sales of 31.2 million in the just-finished quarter are surprisingly healthy – surprising to most Wall Streeters, at least.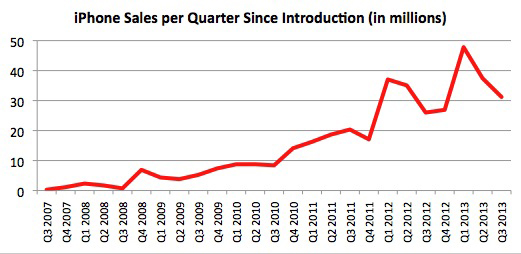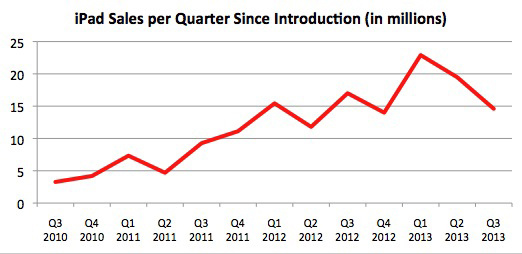 The days, however, when Apple and its competitors could experience meteoric growth with relatively minor upgrades are past. It's time – past time, actually – for Apple to introduce either a new product category or iPhones and iPads with truly revolutionary features and capabilities.
But with even the most optimistic smartwatch predictions being in the 5 million range for 2014, the Apple big-screen TV rumors dissipating, and with the iPhone and iPad being relatively mature products, we can only speculate whether Cook & Co. can pull another high-profit rabbit out of their Cupertinian chapeau – and no, the new boutique Mac Pro doesn't count.
One indication that such a bottom-line boosting trick is not imminent is to be found in Apple's revenue guidance for its current quarter. The range for that prediction is a mere $34bn to $37bn; Apple's revenue for the year-ago quarter was $36bn.
That's certainly far from the go-go growth that Apple investors have come to expect – but it was enough to send Apple's stock up by over 5 per cent immediately after the Q3 2013 results were announced after the markets closed on Tuesday. ®