NASA has released rare photographs of the Earth taken from unusual vantage points – namely, spacecraft orbiting planets millions of miles away.
On Saturday, July 19, NASA's Cassini probe took color photos of the Earth and its moon from its orbit around Saturn, some 900 million miles (1.5 billion km) distant.
At the same time, the MESSENGER probe, currently in orbit around Mercury, snapped black and white shots from a distance of 61 million miles (98 million km). In those pictures, the Earth and the Moon are actually each less than one pixel in size, but they're still visible because the images were overexposed.
Even in the Cassini images, the Earth appears as little more than a tiny, bright blue speck, and the Moon is an even smaller blip. Saturn's rings loom large by comparison in one shot taken with the spacecraft's wide-angle lens.
Boffins at NASA's Jet Propulsion Laboratory in Pasadena, California are currently working with the Cassini photos to produce a larger, mosaic image showing Earth dwarfed by the gas giant, but that effort is expected to take several weeks to complete.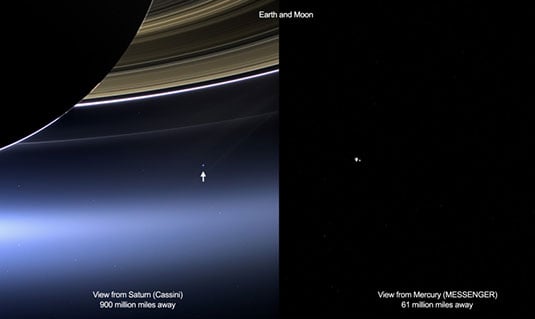 Earth, seen from a distance: Cassini on the left, MESSENGER on the right (click to enlarge)
"Cassini's picture reminds us how tiny our home planet is in the vastness of space, and also testifies to the ingenuity of the citizens of this tiny planet to send a robotic spacecraft so far away from home to study Saturn and take a look-back photo of Earth," Cassini project scientist Linda Spilker said in a statement on Monday.
Such shots of Earth from the outer solar system are hard to come by, as a rule, because aiming a camera at Earth from such a far distance risks pointing it directly at the sun, which can damage its sensors. In this case, scientists took advantage of the fact that Saturn had temporarily blocked Cassini's view of the sun, creating the unique photo op.
"That images of our planet have been acquired on a single day from two distant solar system outposts reminds us of this nation's stunning technical accomplishments in planetary exploration," said MESSENGER principal investigator Sean Solomon. "And because Mercury and Saturn are such different outcomes of planetary formation and evolution, these two images also highlight what is special about Earth. There's no place like home." ®