This article is more than 1 year old
Intel lifts veil on future 14nm Xeon, Atom server chips
Feeds and speeds on impending "Avoton" Atom
Intel owns the data center, ­ or at least a large portion of it when it comes to servers - and wants to not only keep it that way. Chipzilla also wants big chunks of the adjacent networking and storage businesses.
The company therefore hosted a day-long shindig with press and analysts today, complete with all the top brass from its Data Center and Connected Systems Group, to outline its data centre strategy for the next several years.
As part of the talk the company provided some details on its chip roadmap for low-power servers and some details on its impending Atom chips for servers and storage, code-named "Avoton" and "Rangeley," respectively.
"We know that power continues to be a constraint for the data center, both power delivery and cooling," explained Diane Bryant, who is general manager of the group at Intel that peddles chips, chipsets, motherboards, and soon optical interconnects to those who in turn make servers, switches, and storage arrays. "And with that as a fundamental data center constraint, over the past couple of years we have doubled our investment in low-power, high-density processor product lines."
Intel's shift to low-power server parts has been a defensive shield and an offensive sword. Advanced Micro Devices has been trying to get traction down there in the microserver and embedded systems racket, and a half dozen ARM server chip makers are gearing up to put heftier 64-bit products based on ARMv8 cores and often sporting integrated network interfaces or distributed switches into the field either late this year or early next.
No one believes that Intel is making very much money from its low-powered Xeon and Atom server chips, but if there is one thing that Chipzilla cannot do it is let potential competition on the x86 or ARM fronts come in, define the market, and control it. With Intel needing to do substantial work on Atom chips for smartphones, tablets, and other devices where power consumption is an issue, creating server variants does not require novel and expensive work. (If you count the economic benefit of maneuvering room and the opportunity cost of having this market get away from it should microservers actually take off.) Intel, of course, does not divulge how much money it derives from Atom and Xeon E3 server chips.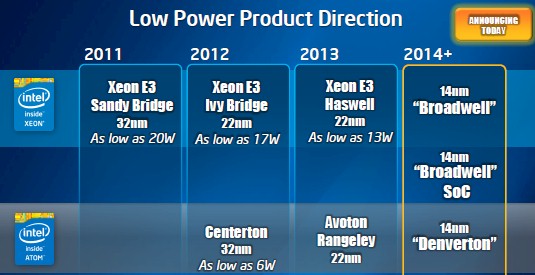 Intel is talking about future 14 nanometer chips aimed at low-power servers
The Moore's Law shrinkage of transistor sizes has enabled the Xeons to add more oomph at lower and lower power, and Bryant said that in 2014 that pace would continue with the "Broadwell" microarchitecture Xeons coming out on 14 nanometer chip fabrication processes. Bryant did not provide any feeds and speeds on the future Broadwell Xeon chips, but she gave a hint: "You can assume that we will again deliver greater performance at lower power."
Instead of treating the Atom server variants as second-class citizens when it comes to process technology (as Intel did with its high-end Itanium processors, which certainly didn't help Itanium's prospects in the market), the Atom chips are this year being brought current with low-power Xeons in terms of wafer baking and the plan, said Bryant, is to keep it that way.
On the Xeon front, Intel started shipping the "Haswell" Xeon E3-1200 v3 processors in June based on 22 nanometer tech and this chip can have a power draw as low as 13 watts with a two-core variant. Next year, Intel will do a socketed version of the Xeon E3 based on the "Broadwell" design and will shift to 14 nanometer technology.
And in a somewhat surprising move, Bryant added that Intel was going to do a Broadwell system-on-chip variant that would be soldered to the motherboard like other Atom SoCs, aimed at customers who might need more single-threaded oomph than an Atom chip could provide. This chip will sport integrated I/O, accelerators, and networking fabric, Bryant said, and will be targeted at servers, storage, and networking.
"We are recognizing that there are workloads that both demand performance and at the same time demand high density," Bryant explained. As for exactly how this Broadwell Xeon SoC might sell against either regular Xeon E3s with sockets or the Atom server variants, Jason Waxman, who works for Bryant as general manager of the Cloud Platforms Group within the Data Center and Connected Systems Group, said that "time will tell" who would buy this chip, but that most likely customers would think of it as an extension of the Atom line.
The Atom server lineup also gets a kicker called "Denverton" next year and is etched in 14 nanometers as well. No further details were divulged about this future Atom for servers. It could have more cores and faster clocks ­ or both.
"Avoton" Atom sighted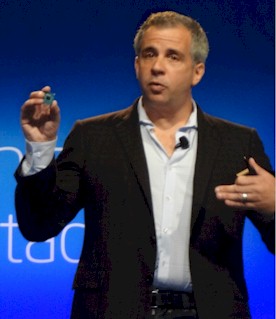 Intel cloud GM Jason Waxman
shows off an Avoton Atom
The second generation "Avoton" Atom chips, which are etched using 22 nanometer processes, have been sampling to partners since March, as have been the "Rangeley" variants of of this chip that have been tweaked for entry storage arrays. The Avoton chip is scheduled to launch some time in the second half of this year, and as best we can figure, it will probably be in September but when new "Ivy Bridge-EP" Xeon E5s are expected at the Intel Developer Forum, but Avoton could come later.
Both Avoton, which is an eight-core part, and Rangeley, whose core count remains unknown, are based on the "Silvermont" microarchitecture, which was designed expressly to blunt next year's attack by an army of lean and hungry 64-bit ARM chip makers targeting the rich server and storage markets that Intel might have thought at one time could be all its own once it vanquished Advanced Micro Devices from servers.
With the shift to the Silvermont architecture, the Atom chip is able to deliver the same performance at one third the power draw or five times the performance in the same thermal envelope, according to Bryant, who was apparently speaking generally of the design.
Waxman whipped out the Avoton chip from his pocket and also provided the name of the chip and some feeds and speeds on it. The Avoton will not be called the Atom S1200 v3, but is getting a new name, the Atom C2000, with the C probably denoting cloud. The chip has four dual-core Silvermont blocks that share 1MB of L2 cache memory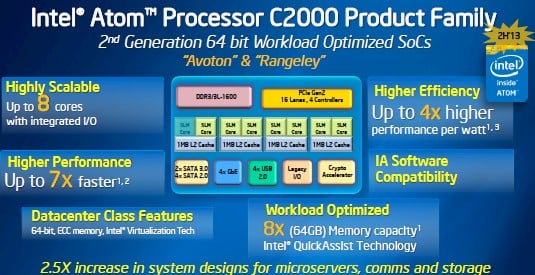 Block diagram of the 'Avoton' Atom server processor
The Avoton and Rangeley chips are very similar, and have up to 16 lanes of PCI-Express 2.0 peripheral links spread across four controllers on the die, plus an integrated DDR3 memory controller that can support memory running at up to 1.6GHz. The eight-core chip will deliver up to seven times the oomph of the dual-core "Centerton" Atom S1200 v1 chip it replaces, and at 64GB of memory, it has eight times the main memory capacity, too. It also sports four 1Gb/sec Ethernet ports on the die, plus six SATA ports and a cryptographic processor.
Intel did not provide the specific clock speeds, performance metrics, or thermals for the Avoton, but Waxman did say that the Avoton would have four times the performance per watt of the Centerton it replaces. Waxman said that Intel already had 50 design wins for server, storage, and networking gear for the Avoton and Rangeley chips, which was two and a half more design wins compared to Centerton. No surprises there. Avoton is a much better processor. ®