Micron has bragged it has the broadest SSD range in the industry during a July 18 investor call, claiming it outclasses all its competitors from Fusion-io to Toshiba.
A slide from the event (registration required) backs this up, although Samsung is now represented in the PCIe area with its NVMe XS1715 SSD - co-incidentally announced around the same time as Micron's event.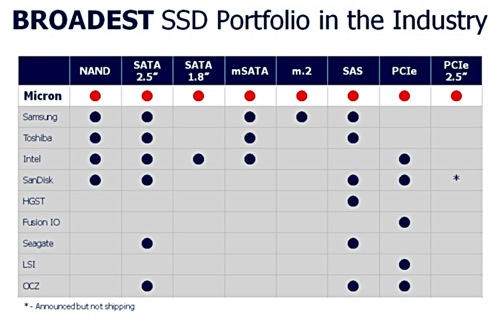 It was bragging time as Micron presenters said both its client and enterprise SSDs shipments were increasing around twice as fast as the market. The firm said it's shipping over 1 million client SSDs per quarter. Micron expects the SSD market to represent half of its overall NAND revenue in fiscal 2014, from their current 25 per cent state.
Micron's Ed Doller, VP and Chief Memory Systems Architect, suggested three-level cell (TLC) flash could be used for cold storage applications in the future, or even appropriately cost-effected 2-bit multi-level cell flash (MLC), but not 3D NAND. It could be an enormous opportunity.
He also said Micron was working with IBM to produce emerging non-volatile memory technology on a PCIe drive, Micron having delivered a drive to IBM for testing. Servers would receive very low latency, non-volatile memory, and have their apps run much faster.
It expects to announce P520 PCIe SSDs, with an NVMe interface and internally-developed Micron controller with a heavy hardware element that will scale up to 16TB in the "near future". That is a huge slug of directly-attached flash storage, far more than El Reg's storage desk could envisage as pure cache.
As a flash foundry owner and operator, Micron believes close integration between SSD construction and chip manufacturing is crucial. SSD suppliers without it, such as Fusion-io, LSI and OCZ, will be at a disadvantage, the firm claims.
It sees what it claims is an inexorable move in the market towards SSD suppliers with foundry operations. Meaning itself, Intel whom it partners, Samsung and SanDisk, to name but three.
Micron also said that while it is moving from silicon to systems, it's certainly not abandoning silicon; rather, it's heading into integrated software and hardware appliances. This may mean Micron is going to be looking into flash software technology in the future. ®