Moto X specs leaked ahead of expected August 1 launch
Google's mobe hopes coming to fruition
---
A set of leaked specifications for Motorola's Moto X handset show the smartphone will be running a new build of Android at its expected launch on August 1 at an event in New York.
According to a spec sheet obtained by Android Police the new handset will have a relatively modest 4.7-inch display running in a distinctly unretinal resolution of 720-by-1184 pixels. It'll be powered by a dual-core Qualcomm S4 Pro MSM8960DT 1.7GHz CPU and Adreno 320 graphics processor, run 2GB of RAM and 16GB of storage space, but there's no removable media-card slot in the shell of the handset.
For Wi-Fi, the handset supports 802.11a/b/g/n/ac, and has near field communications built in. Most importantly, it could run the latest build of Android, version 4.3, which Google is widely expected to show off to the press at a special event this Wednesday. Leaked photos of the new mobe show the device running version 4.2.2, however.
The handset itself should be launched on August 1, seeing as how Motorola has sent out invitations to an event in New York. Some of the generically good-looking models pictured are holding a handset that looks suspiciously like the handset shown in the leaked specifications.
If the event is the Moto X launch – rather than just a "Here it is; isn't it wonderful" presentation – then it's earlier than expected. Based on past comments in May by Motorola CEO chief Dennis Woodside, the industry had been expecting an October launch, which is also a traditional time to get new hardware out in time for the Christmas rush.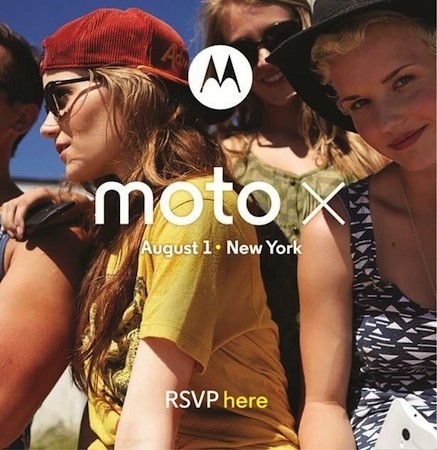 Fab and groovy Moto X models
Motorola has been trying to build a head of steam behind the Moto X with a series of teasers. At the start of the month, the company bought its first advertising, selling the handset on the grounds that it is "Assembled in the USA" and "designed by you." The company has also released the first shot of the US production line where the handset will be assembled (presumably from parts made cheaply in China.)
CEO Woodside will no doubt hope that the Moto X will turn the firm's fortunes around. At last week's Google earnings call it was revealed that the mobile firm's losses have increased in the last quarter and up to 5,000 staff have been laid off or left the company.
Woodside is not the only one looking for an uptick in Motorola's fortunes. The $12.5bn that Google paid for the firm is looking like an increasingly unwise buy given the limited use of Motorola's patent bundle, and some handset money would help reassure shareholders that the Chocolate Factory is spending its money wisely. ®