Nokia flops out its 4G, 4.7-inch WHOPPER: The Lumia 625
Cheap'n'cheerful modern mobe for the masses - without pay-by-bonk
---
Nokia has announced its sixth phone of 2013, the Lumia 625, and this time it's a large but light budget 4G phone. Nokia says that with LTE carriers launching prepay deals and more affordable tarriffs, they're desperate to offer something cheaper.
The 625 is aimed at the sub-£200 upfront prepay market and these lower tariffs. Nevertheless, the 625 packs in the largest display Nokia has put on a Lumia, at 4.7 inches diagonally, and with a decent 2000mAh battery it should keep ticking for at least two days. Nokia formally claims 15.2 hours talk-time on 3G.
In a brief hands-on, the 625 is deceptively light, even though at 158g it's one of the heavier Nokia handsets, which is odd. The 625 most resembles the midrange 4.2-inch Lumia 720 but with a much larger display.
It was also exceptionally comfortable to hold and use. Nokia has relented on its insistence on defining its devices with square, sharp corners. The large screen won't be winning many awards for its density, but it's perfectly adequate, and usable with gloves - which for most punters will matter more.
It's the first Lumia to use a dual-core 1.2Ghz Qualcomm Snapdragon S4 Plus processor package (MSM8930, ARMv7 compatible), halfway between the 1.5Ghz part in the high-end Lumias and the 1Ghz budget chip used in the 520, 620 and 720 Lumias. It also has 512MB RAM, Windows Phone 8 (of course), Bluetooth 4.0 Low Energy, a 5Mp rear-facing camera and a VGA front-facing cam.
Nokia's cut costs using an 800 x 480 Gorilla Glass 2 IPS LCD display and omitted wireless charging, and also NFC, used for pay-by-wave and such tech. (The latter won't be missed much here - where the acronym unofficially stands for "Not F*cking Co-operating").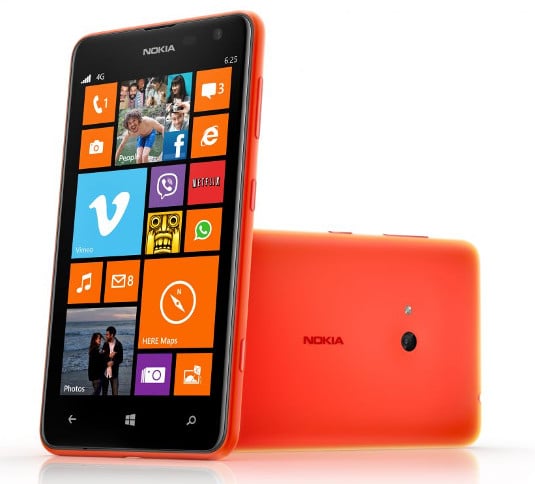 The Lumia 625 – courtesy of Nokia
The 8GB onboard storage memory is tight – it's really 5GB once you're up and running – but it can be expanded by up to 64GB via a microSD slot, and Microsoft is tossing in 7GB of SkyDrive cloud storage for free. The Lumia 620 offered a funky two-tone colour shell – the design gimmick here is a semi-transparent effect case. It's available in screaming orange, yellow and green, alongside white and black. You need to be in decent light to see the translucent effect. Indoors, it completely eluded your reporter.
Nokia expects widespread availability from the start of September, with EE, Vodafone, O2 and Carphone Warehouse carrying the device.
The positioning raised a few eyebrows, given how similar the device is in feel – and price – to the 720. But 4G in the UK is now available on SIM-only deals and lower cost tariffs, so anyone who wants 4G browsing speeds but doesn't need a premium phone on a £40/month tariff may well find it attractive. ®
Similar topics
Narrower topics