This article is more than 1 year old
Yes, UK fanbois, you can now use iPhones as bonking aids!
Bonkmania slips onto Apple gear thanks to EE and Moneto
Following EE's Android-based wallet, the iPhone has finally got into the Near Field Communications bonking game with a sled from Device Fidelity and a service from Moneto, bringing the joy of bonking to all.
EE's service, which launched last week, is limited to the Samsung Galaxy S4 and S3 LTE. Prepaid mobe wallet service Moneto's new product will work with any iPhone, as it comes with its own NFC hardware and secure element embedded in a case from Device Fidelity, which slips over an iPhone like a tailored prophylactic.
Both services are backed by Mastercard and will work anywhere that supports MasterCard's PayPass protocol. This includes McDonalds, Boots and an increasing number of other outlets, given that NFC is a standard component in point-of-sale kit these days.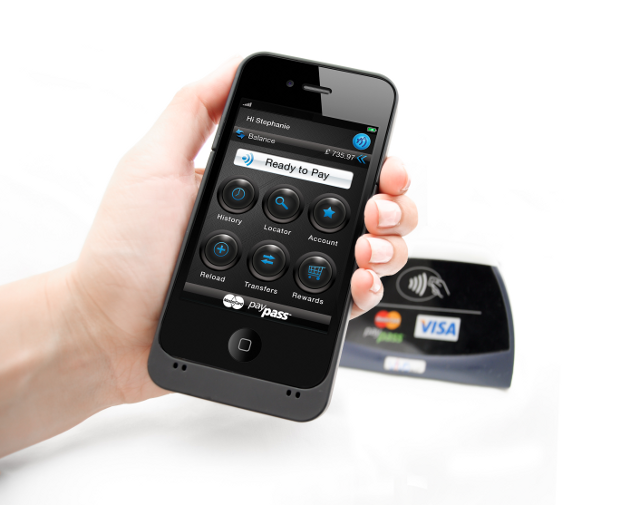 The Moneto kit in action
Near Field Communications, which makes pay-by-bonk work, needs a radio chip and a secure element. It's the debate over ownership of that secure element which has stalled deployments as players manoeuvre for control of what will likely prove an extremely valuable bit of digital real estate.
Samsung has aspirations in the area, and the Galaxy phones have an embedded module under the South Korean giant's ownership. EE's Cash On Tap service relies on a secure element embedded in the SIM (and thus under EE's stewardship) while using the NFC radio in the handset - bypassing the un-trusted OS through the Single Wire Protocol.
The iPhone has neither radio nor secure element, though Apple has certainly experimented in the area and rumours are ramping up ahead of the anticipated September launch of the iPhone 5S. Until then we have bodge jobs like the sled from Device Fidelity, which we've seen before, sold in the UK by Moneto who retains control of the secure element - this time in a microSD card.
Both offerings are pre-paid, for the moment - load them up with cash and spend it with a bonk. That's only to get users comfortable with the idea and (more importantly) comfortable with the specific secure element and its owner. Once lots of people are using Cash On Tap, or Moneto, then banks will come begging for space for their own payment cards and that's where the revenue starts to flow.
The feeling, at the moment, is that customers will want a single electronic wallet for NFC payments, so banks will need to ensure their payment cards are compatible with whichever comes to dominate, so there's a lot more riding on this than a few early adopters posing in fast food joints. ®