Southampton Uni research boffins have demonstrated access to pulsed femtosecond laser-written data bits in fused nano-structured quartz glass, which can store the data for a practically unlimited time.
Jingyu Zhang, a researcher at the uni's Optoelectronics Research Centre (ORC) led the boffins of the Physical Optics Group in a joint project with the University of Eindhoven. A paper was presented about it at the Conference on Lasers and Electro-Optics (CLEO'13) in San Jose earlier this month.
The paper was titled 5D Data Storage by Ultrafast Laser Nanostructuring in Glass (PDF, abstract, 2 pages) and data bits are located in a 5-dimensional space within the material, defined by their position in terms of:
Height
Width
Depth
Slow axis orientation
Strength of retardance
Height, width and depth are the normal 3D spatial co-ordinates. Slow axis orientation and retardance strength are two birefringence parameters. Birefringence, otherwise known as "double refraction", is an optical property of a material, such as those with asymmetric crystal structures, that has two refractive indices.
Calcite crystals also exhibit this phenomenon. The index value depends upon the direction of light hitting the material, its propagation direction, and its polarisation.
The simple explanation is that light hitting the material can split and come out in two separate paths.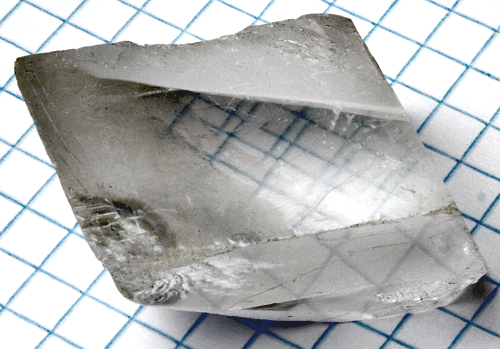 Calcite crystal birefringence showing two images of graph paper underneath it.
Zhang's group wrote data to a piece of fused silica with a laser pulsing in the femtosecond zone, meaning 10-15 seconds, or one millionth of a billionth of a second. They recorded a digital copy of the abstract of their paper using three planes of nano-structured dots, with each plane separated by 5 μm; one μm (micrometer) being one millionth of a metre.
In more detail:
For the demonstration of this technology, the copy of this abstract was recorded into two different levels of retardance (1 bit) and four slow axis orientations (2 bits). As a result each laser imprinted spot stores 3 bits of information.
That means, in theory, bulk data could be written to the recording material at very high speed.
Data was read using a BX51 (Olympus Inc.) optical microscope based quantitative birefringence measurement system (CRi Abrio).
The boffinry say a fused silica disk could store 360TB and withstand temperatures of up to 1000 degrees C. They nicknamed their piece of glass the Superman Memory Crystal, referring to the comic superhero's memory crystal.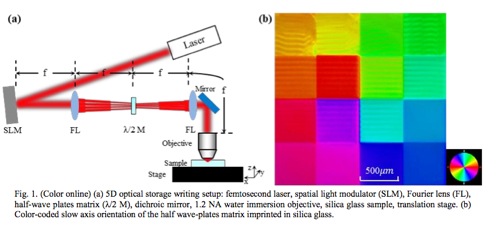 How it works, according to the boffins themselves. Click to enlarge.
They summed up what they did like this:
The data recording was significantly simplified by replacing the conventional control of the writing beam energy and polarisation with a spatial light modulator and a specially designed laser imprinted half-wave plate matrix. This demonstration is a crucial step towards commercialisation of ultrafast laser based optical data storage.
Zhang said: "We are developing a very stable and safe form of portable memory using glass, which could be highly useful for organisations with big archives. At the moment companies have to back up their archives every five to ten years because hard-drive memory has a relatively short lifespan. Museums who want to preserve information, or places like the national archives where they have huge numbers of documents, would really benefit."
Unlike holographic writing, this form of optical storage writing promises to be extremely fast and, if recording disks and recording devices could be manufactured cost-effectively, we would have an incredibly long-lived data storage technology; archiving forever, basically. That would make Millenniata's 1,000 year life M-DISK look unimpressive. But you could buy them now and be able to wait for the femtosecond-flashing, nano structured, birefringence technology that the Southamton boffins have demo'd. ®