Sammy had Sweet Fanny Adams to do with Swiss Fanny madam's blast
Teen's thigh-roasting phone EXPLOSION: THE TRUTH
---
Last week's thigh-roasting "Samsung" smartphone battery has turned out not to be from Samsung at all - proving yet again the hazardous nature of cheap knockoff batts.
When 18-year-old Fanny Schlatter's pocket went off like a firecracker the finger was quickly pointed at the battery in her Sammy Galaxy S3. But an investigation has established that the battery was a discount replacement, absolving the South Koreans of any responsibility and, more importantly, any financial liability.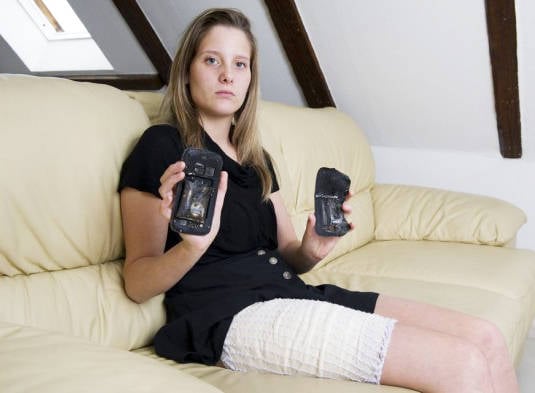 Well-bandaged, Fanny Schlatter faces rehab and tout le tralala! (source: Le Matin)
The news comes from the same publication that reported the explosion, but the probe was conducted by officials in the teenager's home country of Switzerland. Those watchdogs have apparently cleared Samsung entirely of any wrongdoing.
Ms Schlatter maintains that the battery carried a Samsung logo, though it seems unlikely it was the tamper-proof hologram that usually adorns properly sourced power packs.
Squeezing energy into ever-more-diminutive form-factors is inherently dangerous, and even reputable manufacturers have been caught out in the past. The vast majority of such incidents can be traced to pattern replacements, so-called because they match the pattern of the original part, if not the specification. Buying cheap batteries can be a very expensive business. ®