Verizon offers Motorola mobe with 48-HOUR battery life
Three new Droids debuted
---
Leading US mobile carrier Verizon Wireless unveiled three new Droid-branded handsets built by Google's Motorola Mobility division on Tuesday, including one that boasts an impressive 48-hour battery life.
None of the three was the Moto X, Motorola's much-anticipated new flagship phone that's expected to launch on August 1. But if the rumors about the Moto X are true, Verizon's new Droid Mini, Droid Ultra, and Droid Maxx all come with similar specs – although they don't appear to be "assembled in the USA," unlike the Moto X.
All three have 1.7GHz dual-core processors, which are likely to be the same Snapdragon S4 MSM8960DT chips that are said to power the Moto X. All three ship with 2GB of RAM and at least 16GB of onboard storage, but no SD card slot (although the Droid Maxx has 32GB of onboard storage). All three have a 2-megapixel front-facing camera and a 10-megapixel rear-facing camera with an LED flash. And all three phones even weigh the same, at 4.94 ounces (140g).  
The main ways in which the three new phones differ from each other are size and battery life. All three phones have cases reinforced with Kevlar for added durability, but while the Droid Ultra and the Droid Maxx are essentially identical on the outside, with 5-inch screens and cases to match, the Droid Mini has a 4.3-inch screen and it's smaller in both width and height.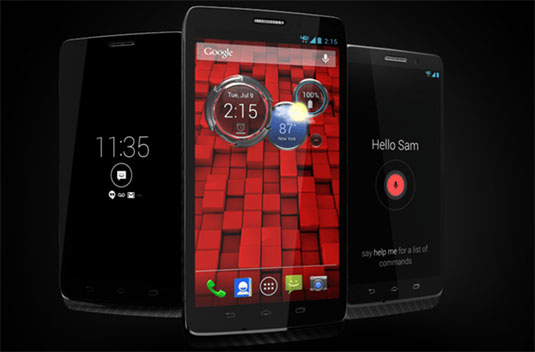 Verizon tapped Motorola to deliver its three new Droid smartphones
Counterintuitively, however, the Droid Mini is actually slightly thicker than its siblings. Verizon says it's not the Droid Mini but the Droid Ultra (and hence the Droid Maxx) that is the thinnest 4G LTE smartphone on the market, at 7.18mm thick.
The main advantage the Droid Maxx has over the Droid Ultra, other than increased storage, is battery life. While the Droid Ultra and Droid Mini each claim to offer 28 hours of talk time or 13 days of standby time, the Droid Maxx claims an eyebrow-raising 48 hours of usage or 25 days of standby. The Maxx also supports wireless charging via the Wireless Power Consortium's Qi standard.
All three new Droids will ship running Android 4.2.2 "Jelly Bean" (not Android 4.3, which some fandroids are crossing their fingers will be unveiled on Wednesday) with a few added touches. For example, the phones include the Droid Command Center home-screen widget, NFC-based data sharing via Droid Zap, and a feature that lets you easily take photos by shaking the camera and then touching anywhere on the screen.
The phones also feature hands-free operation via Google Now. Say "OK Google Now" while the phone is on standby and it will wake up and listen for commands, allowing owners to make calls, send texts, play music, or get directions without so much as picking up the phone.
All three phones are available for preorder as of Tuesday via Verizon's Droid website. The Droid Ultra and Droid Maxx are going for $199.99 and $299.99, respectively, while the Droid Mini costs $99.99 – all provided customers agree to a new two-year contract, that is.
The Droid Ultra and Droid Maxx will begin shipping and will be available in Verizon stores on August 20. The Droid Mini, on the other hand, will be available on August 29. ®