Pikmin to the rescue: Can Nintendo revamp revive Wii U fortunes?
Plus Valve's incredibly addictive Dota 2, and work out whodunnit in The Raven
Game Theory With the heatwave apparently set to give way to stormy weather, it might be about time to batten down the hatches and get comfy with a new game. This week we're off for a walk in the forest with Pikmin 3, tracking down a master thief in The Raven and getting overwhelmed by choice in Valve's Dota 2.
Pikmin 3
The Wii U's version of Shigeru Miyamoto's collect-'em-up – for want of a better description – is exactly what it ought to be: a reimagining of a Nintendo classic, brought into the modern day with spruced-up visuals and with a couple of surprises thrown in along the way.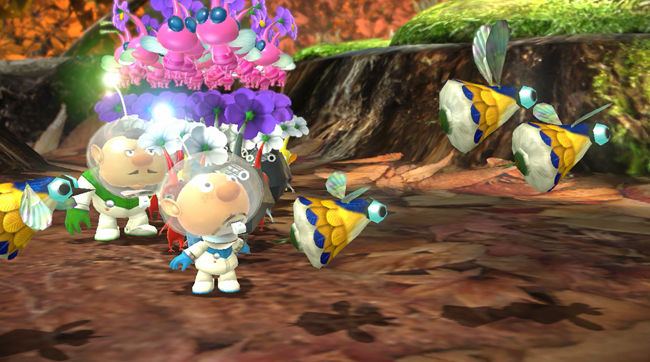 This time round, series stalwarts Captain Olimar and his idiot brother Louie take a back seat. They're replaced by a brand new trio of intrepid astronauts: the habitually interrupted Captain Charlie and his crew, consisting of biologist Brittany and science officer Alph.
They're on a mission to gather food for their starving planet Koppai, and so off they trek to freshly discovered planet PN-404 in a bid to harvest fruit. No prizes for guessing that their craft malfunctions, crashes and leaves them shipwrecked on hostile alien soil, as Pikmin's curse strikes again.
Of course it's not long before our intrepid adventurers come across the titular friendly herbivores, and therein resumes the series' stock gameplay. Players are tasked once again with herding the ant-like pikmin with a whistle, all with a view to bashing monsters and collecting items.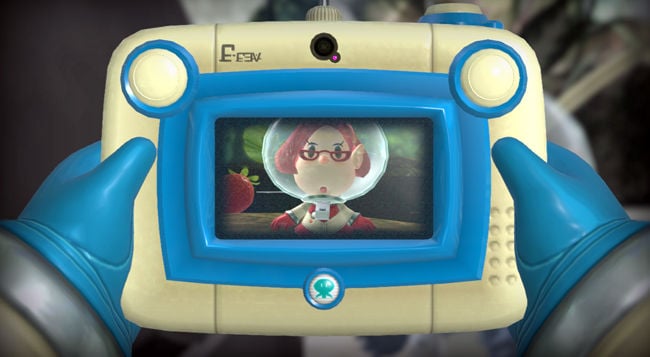 Series veterans - and Nintendo fans in general - won't be surprised to hear that the Big N has opted for a policy of 'if it ain't broke, don't fix it'. Consequently, the controls remain largely the same as before, though I'd suggest use of a Wii-mote over the GamePad. Wii U-specific nuances are few: a touch-sensitive map and the ability to switch over to GamePad-only gameplay.
As before there's a set progression to when pikmin types are unveiled. Look out for the particularly cute rock types, as well as the effeminate flying variety. And, in a nod to the original Pikmin, the ticking over of days is much more important than in Pikmin 2. Each new dawn requires the consumption of a fruit shake upon which Captain Charlie and co depend for survival.
Therefore, though adding parts to your ship is still necessary to discover new areas, fruit gathering takes equal precedence. A handy addition, then, that our brave outer-spacers can be separated and even set unique destinations using the GamePad's map, so facilitating time-saving multi-tasking.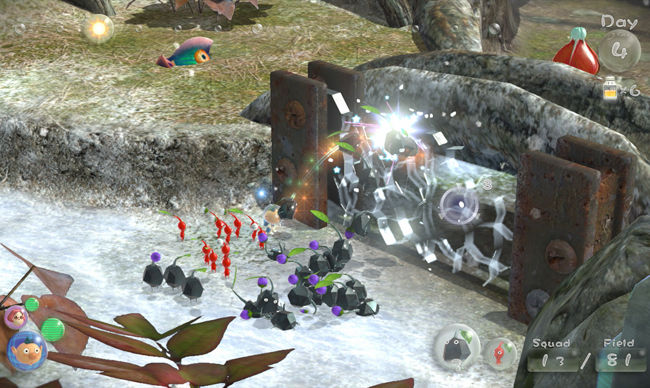 Crossing chasms and leaping lily pad-strewn rivers will require bringing your crack squad back together, however - as, in general, will close encounters with Pikmin 3's larger specimens. These enjoyably epic fights are rendered wholly more accomplishable through the tactical use of timed reinforcements.
On the whole we're in familiar territory, then, and essentially that's exactly what Pikmin 3 is: a refinement of the previous titles rather than something new. Not that everything has been honed to perfection.
When using the GamePad, for example, the aiming reticule that pinpoints where propelled pikmin will land is mapped to the same stick that physically moves your character. This feels overly cumbersome. You can hold down the right shoulder button to move the reticule alone, but it's nevertheless irritating - particularly in volatile situations.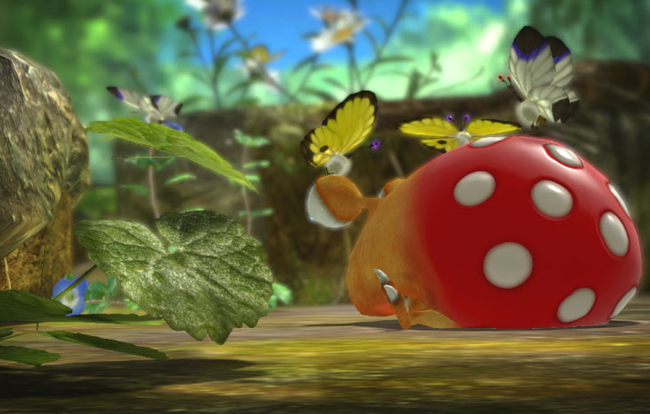 Selecting just the right kind of pikmin can be needlessly complicated too. Try making only your blue types charge towards a water-based foe when you have multiple types selected, for example. Finally, there's still a question mark over the little critters' navigation skills, a hangover carried over from previous entries.
That said, none of the above faults are game-breaking and the sense of relaxation gained by watching your army of helpers going about their tasks is ever soothing. Pikmin 3 retains that peace and tranquillity which, for me, has always made the series that little bit special.
Pikmin 3 might not quite be the killer app that the Wii U needs to shift a big number of units but it exudes enough class to buy Nintendo some time. It's instantly the system's best game and points the way forward for how Zelda, Metroid, Smash Bros. and the like should be treated.