Apple KILLER decloaked? Google lovingly unboxes Nexus 7 Android 4.3 slablette
New LTE kit gives first cross-platform 4G support
---
Google has been showing off its new Nexus 7 fondleslab running the latest version of Android, including a 4G LTE version that's the first hardware to allow 4G reception from a variety of competing carriers.
"By the end of the year, consumers are going to buy more tablets than PCs. That's an amazing statistic," said Sundar Pichai, who oversees Android and Chrome for Google. "And by the first half of this year almost one in two tablets sold will be Android."
At the press conference to announce the launch, Pichai said that Android tablet activations have risen from 10 million last year to 70 million today, and in markets like Japan, Android slabs are outselling their Apple rivals.
The latest Nexus 7, built by Asus, is 2mm thinner than Google's first-generation seven-inch fondleslab, with nearly 6mm shaved off the width and the weight reduced by 50 grams. The screen size is the same as the earlier Nexus 7, but the resolution has now been upped to 1920x1200, bringing the pixels per inch from 216 to 323 – the highest ppi of any tablet, Pichai claimed.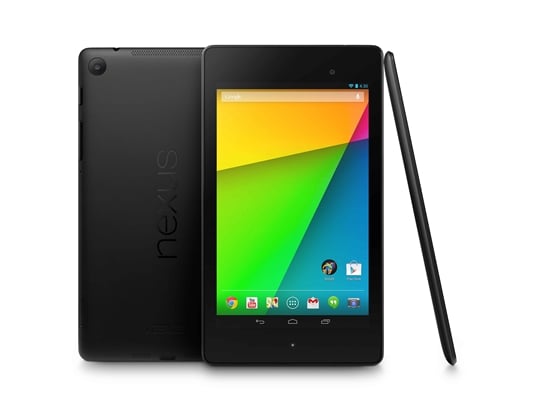 The updated Nexus 7 fondleslab, built by Asus
The fondleslab itself uses a quad-core 1.4GHz Snapdragon S4 processor that nearly doubles the computing performance of the old Nexus 7, plus an Adreno 320 400MHz GPU, giving a promised 4x performance boost. RAM has been upped from 1GB to 2GB, and there's now a 5MP camera in the back in addition to a 1.2MP forward-facing camera for videoconferencing.
The Nexus 7 has Wi-Fi models in two sizes (16GB and 32GB) running 802.11 a/b/g/n. There's also an LTE version that works with Verizon, AT&T and T-Mobile 4G services via a custom chip that Google has bought in from an unnamed third-party supplier. That hardware means Google can sell the mobile version easily across all US carriers.
"This is the first time you've got a tablet that can handle the different standards used by different mobile companies within a single unit," Hugo Barra, VP of Android at Google told The Register. "We're a bit surprised that so few people have picked up on that."
There are also the usual hardware bells and whistles you'd expect form a fondleslab these days: GPS, near-field communications, Bluetooth 4.0, compass, accelerometer, gyroscope and stereo speakers with "virtual surround sound." The latter is actually pretty good, although if you're holding the Nexus in landscape mode it's easy to block the speakers with your hands.
Battery life is a claimed nine hours for video and ten for web use and browsing, with Qi-compatible wireless charging if you want to buy an extra charger. The unit ships with a USB charger in the box, but it works with any micro-USB power cable.
Consumers will pay $229 and $269 for the 16GB and 32GB Wi-Fi models respectively, and $349 for the LTE-equipped 32GB version. Sales are limited to the US at present, but the UK, France, Germany, Spain, Japan, South Korea, and Australia will be able to buy the Nexus 7 in the next few weeks.
The Chocolate Factory is also making a play for the Nexus 7 as a device for students. It has worked out deals with five academic publishers (including Wiley, Pearson, McGraw-Hill and Macmillan) to allow students to buy textbooks for the device, or rent them for a period of six months with an "up to 80 per cent" discount on the purchase price.
Google has handed out the hardware to the press to play with over the next two weeks and initial impressions are good – overall. It certainly feels noticeably lighter and slimmer than the older version, and the weight savings do make a difference for handheld use.
As for the much-vaunted screen, this hack is less sold. It's good, but not blow-your-socks-off good – possibly down to the seven-inch form factor or the fact that the default settings are very dim.
How well it holds up with extended use and a little customization remains to be seen, but with a price point well below an iPad Mini, the cash-savvy consumer may find the Nexus 7 a tempting buy. ®