This article is more than 1 year old
Village-swallowing MUDCANO was no accident, say boffins
Forget 'Sharknado': the Mudcano is real, destroyed 10,000 buildings and is still erupting
In early 2006, miners drilling a new natural gas well in the Indonesian district of Porong struck a problem. Not far from their workings and not long after they did some drilling, hot mud started bubbling to the surface.
Lots of hot mud.
So much mud that at least 30,000 people were displaced and 10,000 buildings destroyed.
Levees built in 2008 have contained the mud, but the stuff is still bubbling up and causing problems, not the least of which are subsidence caused by its weight.
Boffins think the Mudcano may keep erupting for years.
Controversy about the Mudcano has raged ever since, largely because locals want compensation for having their home destroyed and livelihoods disrupted. Some funds have been forthcoming, from both the mining company that drilled the well and Indonesia's government, but residents are frustrated by the slow pace of disbursements.
The mining company has not formally accepted blame for the eruption, so arguments continue over just what set the mudcano in motion.
Those in "the miners done it" camp suggest the miners dug too deep, didn't follow best practice, should have known that Indonesia is very tectonically tenuous and can therefore be held responsible for errors that unleashed the Mudcano.
Indonesian courts agreed with that argument last year and rejected a rival "the miners were in the wrong place at the wrong time" argument. That line of thinking is keen on a link between the Mudcano and an earthquake that took place in Yogyakarta, about 250 kilometres from Lusi, a few days before the mud eruptions began.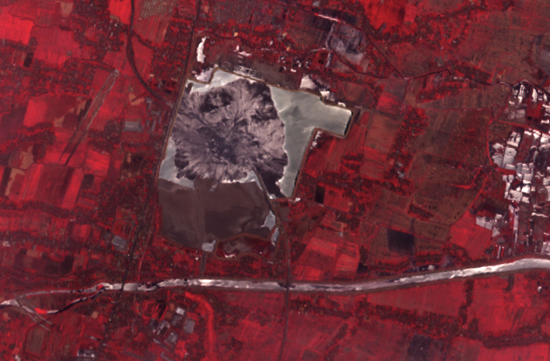 Indonesia's Mudcano, as pictured by NASA Earth Observatory in 2009
The grey area is the mudcano, the red is vegetation
Last weekend the natural causes argument found support in a new Nature Geoscience letter.
The letter reports the findings of three boffins who analysed the Yogyakarta quake and argue their use of "numerical wave propagation experiments" show "a high-impedance and parabolic-shaped, high-velocity layer in the rock surrounding the site of the Lusi eruption could have reflected, amplified and focussed incoming seismic energy from the Yogyakarta earthquake."
"Our simulations show that energy concentrations in the mud layer would have been sufficient to liquefy the mud source, allowing fluidized mud and exsolved CO2 to be injected into and reactivate the Watukosek Fault," the trio write. That fault, they say, "connects hydraulically to a deep hydrothermal system that continues to feed the eruption."
At this point readers may wonder if the researchers had any outside motivations for the study. For what it's worth "The authors declare no competing financial interests".
Much of the interest in the cause of the Mudcano probably comes from insurers, rather than the principals, as the former happily wrangle over such matters for years to keep their payouts at levels underwriters and shareholders will find acceptable.
If that depresses you there is one upside to this story: the mud is still coming out and boffins don't often get a chance to watch mud volcanoes in action. The ongoing legal interest in the case means we can expect more papers to, ahem, flow! ®