A man seemingly familiar to millions as Apple's tetchy tech tycoon Steve Jobs will star in adverts for cheap Chinese computers from Lenovo, according to reports.
Actor Ashton Kutcher - who will play the late biz baron in forthcoming biopic Jobs - will be the new poster boy for the planet's largest shifter of PC boxes, we're told. And he'll bank a $10m pay cheque for his troubles.
That equates to nearly eight per cent of Lenovo's net earnings in its fiscal fourth quarter and a hell of a lot of high-end PC sales, never mind cheap ones.
Kutcher, the world's highest paid TV star according to Forbes, has lent his looks to Nikon in the past, and is a serious angel investor in tech startups including Path, Hipmunk and Flipboard.
The former husband of Hollywood sex bomb Demi Moore was creative director at internet chat upstart Ooma for a year from 2007, and founded a hedge fund named A-Grade with partners Guy Oseary and Ron Burkle. In between investments, Kutcher starred in CBS sitcom Two and a Half Men, trousering a stellar $24m from that role.
Jobs, the movie, is due out in the US next month, and will chart the rise of Apple's co-founder from bare-footed hippy to ruthless magnate leading planet's most-valued firm... before it peaked, anyway.
Lenovo will hope Kutcher's Tinseltown glitter rubs off on its own brand reputation, which is relatively weak outside of China, and help it boost sales in the US.
Apart from the huge cash pile that he stands to make from being Lenovo's frontman, Kutcher may also spread his own brand of manliness in China. He looks a bit like a non-sporting version of footie softie David Beckham, in El Chan's opinion.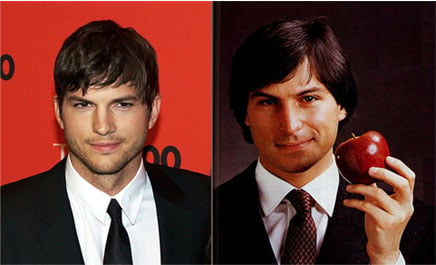 iMac and cheesy grin ... Kutcher, left, and Jobs, right
Apple had its chance to develop closer links with Kutcher in the run up to the biopic's opening, but will need to bide its time before it can pull the same trick on Lenovo when, at some point in the next 20 years - maybe longer - a top star signs up to play Lenonvo CEO Yang Yuanqing on the big screen.
Lenovo refused to comment. ®