Amazon's cloud division has contributed to over $1.6 billion in revenue in the e-retailer's nebulous "Other" category this year, as Bezos & Co.'s cloud continues its vertiginous rise.
The "Other" category added $892m to Amazon's revenues in the second quarter of 2013, according to figures from the company's Q2 2013 earnings, demonstrating growth of almost $100m on the previous quarter.
Though Amazon does not break out earnings figures for its cloud division, it does stick it in a category whose other main inhabitant is advertising, which is predicted to bring in $835m for the entirety of 2013.
Given the fact "Other" is already at $1.6bn, it's realistic to project earnings for the division to come in at a couple of hundred million above $3bn for the year – at least. That still puts AWS as the major contributor to the category, and lines up with our prediction it could rake in as much as $2.25bn for the year.
Our own figures (below) show a pronounced growth in the segment in the past couple of years, lining up with a sustained and aggressive campaign by Amazon to implement enterprise features such as role isolation, data warehousing, and virtual private clouds within AWS.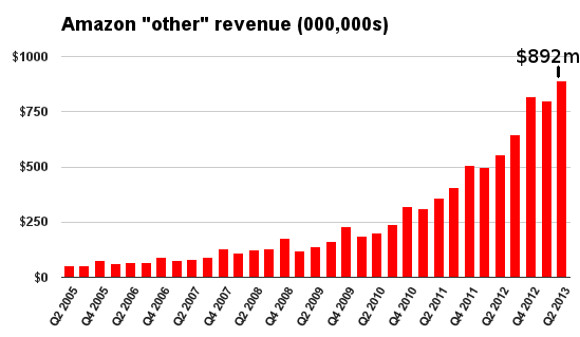 Amazon spent $855m on purchases of property and equipment in its most recent quarter, up $670m from the previous quarter. This figure reflects a combination of spending on distribution warehouses and IT gear, and suggests that the company is preparing for further growth in the division.
This lines up with the thoughts of the gold-plated beancounters at Morgan Stanley, who recently predicted that Amazon Web Services could bring in a cool $24bn a year for the company within a decade. ®
Similar topics