Steady adaptation, no new products and no super-niche specialisation please: these were the three takeaways El Reg storage desk retrieved from a briefing with Alan Atkinson, vice president and general manager at Dell Storage.
The impression we gained was that Dell is set on expanding its mainstream enterprise storage offering's applicability, usefulness and performance but not by buying in new storage products or, indeed, developing them.
Atkinson said he sees no need for Dell to have more storage products, such as a brand new all-flash array or, for example, a file synchronisation and sharing product. The company has no intention of producing a high-end VMAX/VSP-type array with multiple controller engines connected by a specialised internal fabric. Two controllers and scale-out features are plenty good enough covering the storage ground its customers need.
Having said that, Dell will be making a whole slew of storage announcements through to the end of the year and Atkinson discussed a few of them.
The twin hearts of Dell's storage platform strategy are EqualLogic and Compellent, historically iSCSI and Fibre Channel access block storage arrays respectively. (PowerVault sits below them in a cheap and deep storage product category.)
The two products are going to come closer together with, we understand, the ability to replicate and snapshot between them; storing EqualLogic snapshots on Compellent for example.
There is no word though on common management for the two, although Pete Korce, Atkinson's co-GM for storage, said it was coming at the Dell Enterprise Forum in June.
All-flash Compellent
In the Compellent area, there is going to be an all-flash enclosure which could hit the market in mid-August. It will feature more than 30TB of capacity, shared between fast SLC and slower but less expensive MLC drives with tiering between them, and pricing will be equivalent to a 15,000rpm hard dusk drive enclosure.
Atkinson said it will have a cost 75 per cent lower, in both $/IOPS and $/GB terms, than most all-flash array products and deliver around more than 300,000 IOPS, more than 100,000 in an OLTP use case. The slide we saw said it will have:
SLC flash for high endurance and reliability
MLC flash for cost-optimised read-intensive data access
Active writes directed to SLC and other writes to MLC managed to ensure reliability.
Atkinson said Dell totally rewrote the Compellent tiering process to fully support flash with lots of logic changed to handle read-intensive MLC.
A slide we saw compared a 15K spinning disk Compellent with an all-flash enclosure Compellent config for a 20TB/40,000IOPS database application. Excuse the crappy iPhone photo: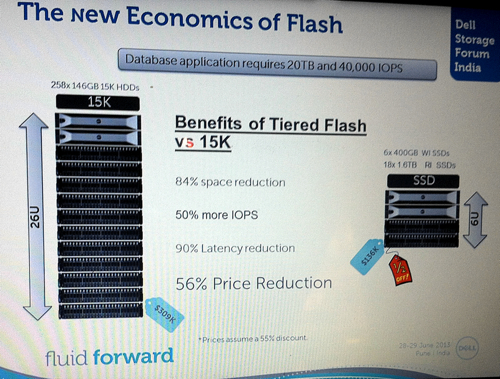 Compellent all-flash enclosure use case
Instead of 258 x 146GB 15K drives in 26U of rackspace costing $309,000 we have:
6 x 400GB (SLC) SSDs
18 x 1.6TB (MLC) SSDs
6U of rackspace
a price of $136,000.
The two prices assume a 55 per cent discount.
Atkinson said of all-flash array competitors like Whiptail and Violin Memory: "They can outperform a Dell flash Compellent but it's a very different price point and we have the Dell software environment." Also a flash-based Compellent array covers "probably 95 to 97 per cent of the use cases."
He showed a chart comparing a flash Compellent with Dell's mainstream competition's flash arrays: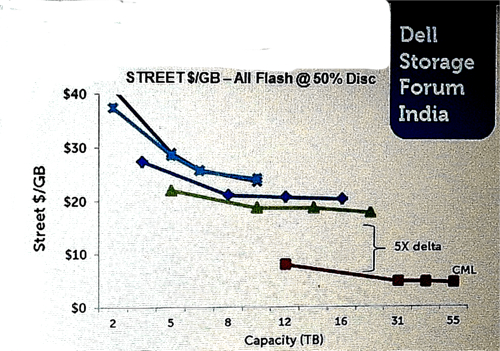 Please excuse poor iPhone photo
The chart claims Dell costs a fifth or less of these competing products on a street $/GB basis. The competitors weren't identified and Atkinson said the difference was partly due to Dell's mixed SLC/consumer-grade MLC use with competitors using enterprise-grade MLC which costs more.
It appears to us that Dell's take on all-flash arrays is to supercharge its existing Compellent array with flash but not charge a high price for it, and so undercut some of its rivals as well as providing access to the existing Compellent software environment - pretty similar in outline to HP's strategy with the 3PAR 7450 all-flash array.
Looking ahead
Talking about the coming months Atkinson said: "We have a number of interesting things coming down the pike [and] we're going to have a fairly busy winter."
There will be considerably more synergies between the EqualLogic and Compellent products over time.
We at the El Reg storage desk think Compellent will probably get scale-up and scale-out enhancements. We also wonder if the distinction between iSCSI, easy-to-use, small enterprise arrays and more capable Fibre Channel arrays for larger enterprises is still tenable?
Are customers and channel partners looking for a unified iSCSI/FC offering that combines the attributes of both array types?
Atkinson said: "It's the most dynamic time in storage I've seen in 15 years," mentioning Hadoop, OpenStack, the cloud and Ceph as storage areas which are becoming more and more popular.
He didn't mention file synchronisation and sharing though, where Dell competitors EMC, HDS and NetApp are active. Will Dell continue its past trend of buying in new storage technology? Atkinson said:
I don't know that we need new products. I think we're very well served by adopting existing products to meet the trends out there.
So Dell extends capabilities of existing technology, like its Fluid File System being able to treat server flash as a storage tier integrated with a back-end array.
Atkinson mentioned Dell's converged server, storage and networking systems in passing, and said: "We could do a better job there and probably will."
Vulture Central sees Dell busily integrating its existing storage offerings, with a "better together" watchword as it were. We don't think that the Compellent and EqualLogic lines will merge, but they will be better integrated and we're convinced common management facilities will be developed.
It's likely that the next-generation of each product technology will have a strong integration theme to it.
It also wouldn't surprise us if Dell added a file sync 'n' share capability to one or both of EqualLogic and Compellent. We don't see an acquisition coming in that space; the Dell-going-private affair surely prevents any significant expenditure in that area. But we could be wrong. ®