This article is more than 1 year old
'First' 3D-printed rifle's barrel splits after single shot
Meanwhile, 3D printer company says its software detects and won't print gun plans
3D-printed weapons are back in the news, after a rifle billed as the first such device designed to be created on 3D printers was put through its paces with mixed results.
Someone called "Matthew" who writes an instrument making journal and runs a YouTube Channel in which he shows off 3D-printed ukuleles yesterday added a video of what he says is a rifle he designed and printed himself.
As you can see in the video below, the rifle gets off a shot. Later examination found the weapon's barrel split.
The weapon appears to use the same design as the infamous "Liberator" 3D-printed pistol, but adds a longer barrel. Matthew, who posts on YouTube as ThreeD Ukulele, named his creation the "Grizzly".
As commenters on the video have noted, igniting a bullet's not the hard part of making a cheap gun. Making something that can survive the hot gases that result is, and the Grizzly fails that test.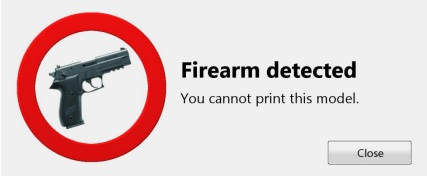 You can't argue with a dialog box
In related news, Danish 3D printer maker Create It Real has decided to ensure its products can't ever print a gun.
A canned statement (PDF) saying that if users try to load a file for a 3D gun its "... smart software scans the model and tries to match its characteristics with the characteristics of a firearm. If certain features align, the software will not allow the user to view and print the model." ®