Chromecast: You'll pop me in for HOT STREAMS of JOY, hopes Google
Let the dongle wars commence
While much of Wednesday's Google press conference covered the launch of the new Nexus 7 tablet, the company also unveiled its latest attempt to get into the web TV game with the Chromecast dongle.
The two-inch long Chromecast looks like a fat memory stick but with an HDMI prong instead of USB. It contains an ARM processor, Wi-Fi, and a cut-down version of Google's Chrome OS that allows Netflix, YouTube, and content being viewed in the Chrome browser or on Chromebooks to be streamed direct to the TV.
Once installed and powered up by a microUSB cable, the Chromecast will take streaming content direct from your Wi-Fi connection, rather than running it through a phone or tablet, so that the control device can be used for other things. The dongle even works with iOS devices as well as Android.
"We wanted this to be as close to zero setup time as possible," said Mario Queiroz, VP of product management for Google. "At $35 the Chromecast can be plugged into every TV in the house."
Google also released a Chromecast SDK for developers, and Queiroz said that applications wouldn't have to be rewritten to use the device. AOL, which is developing apps for the system, told El Reg that in terms of development time, tweaking existing applications was a piece of cake.
Apple reports that it has flogged over 13 million of its own TV systems and rival Roku is selling well. But Google is hoping the combination of simplicity, low price, and full Netflix and YouTube access will win over consumers.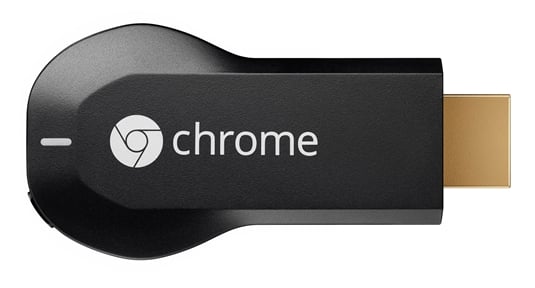 Third time lucky for Google and TV?
This isn't Google's first shot at getting itself onto archaic devices like the common household TV set. The Google Smart TV reference platform the Chocolate Factory developed with Intel, Sony, and Logitech launched over two years ago and isn't exactly flying off the shelves.
Then there was the Nexus Q, a ball-shaped hardware device launched last year at Google's I/O developer conference. These $300 units were so unpopular that Google ended up dropping the price to nothing and just sending them out free to those who had placed an order.
When this hack asked if the Chromecast was Google's attempt to learn something from the Q fiasco the staff member demoing the kit simply said: "No comment. Really, no comment."
Google is hoping that the Chromecast will be third-time lucky in its attempts to crack the TV market. It's certainly a much better piece of kit than the Q, and at the $35 price point it could be a very attractive buy for a lot of people. ®