This article is more than 1 year old
The FLOATING mobile phone shop on the edge of the Internet
Reg man splashes down amid Asia's smartphone shift
Google Maps can't find the Cambodian village of Prek Toal. Bing Maps is similarly clueless about the community of 6,000 nestled near the north-western end of Lake Tonle Sap.
But Cambodian mobile carrier Metfone knows all about Prek Toal: it has a dealer there in a floating building and may well operate one of three cells the village hosts, each perched on concrete platform that keep them above the high water mark to keep them above wet season floods.
The store's less sturdy. Like almost every other structure in the village, the store floats on a raft of long bamboo branches and styrofoam boxes. That arrangement spares buildings the fate of the local school, currently half-submerged after slipping off its piles.
The sunken school and Unicef's assessment that Cambodia has gross national income per capita of $US830 are just two of the things that make Prek Toal's possession of a mobile phone shop seem incongruous.
For example, fresh water only became available a couple of years back, thanks to the recent arrival of a solar-powered purification plant built by the United Nations Development Program. The water is free, transporting it home is not. Many locals have motor boats to make that easier, or hire one for the job. Fuel for the boats is sold in old whisky bottles at about $US1 a litre. Newer boats cost about $3000.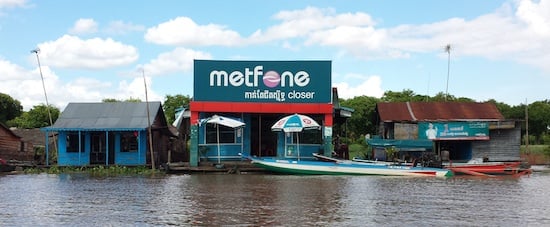 Metfone's floating phone shop
That's a fortune in a village where a dollar is a not-considerable sum. I stayed with a Prek Toal family whose members have lots of ways to make a crust, one of which is to make and repair clothes. One customer I saw paid 100 Riel – it's about 4,000 Riel to the US dollar - for a repair to his trousers. There's a 100-Riel note, so transactions of that value must be common.
The village isn't shabby or deprived – a meal can be a single cast of a net away – and there are some ways to score a big payout. The family I stayed with had a caged crocodile I was told would fetch a couple of hundred dollars for its skin, or five times that if it were a breeding female.
Yet I also saw local women re-using the small nails they use to help weave mats and baskets from water hyacinth stems. I could go to a hardware store and buy 500 such nails for less than a dollar. Yet the weavers each possessed a container filled with dozens of rusted nails they obviously planned to use over and over again.
Each of those women also possessed a feature phone, and weren't shy of using it.
When I popped into the floating Metfone branch I found a mix of photocopied and colour brochures. No handsets were on display: Prek Toal buildings don't look robust enough to include lockable doors.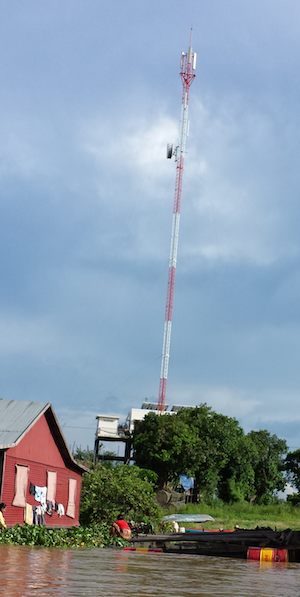 One of three mobile phone masts in Prek Toal
The handsets getting the biggest push were the $10 MF6202 and the $75, Android-powered and 3g-equipped Leopard MF800. Lesser Leopard models can be had from $35, a price point at which they offer a touch screen but don't name an operating system.
Meanwhile in town
Phones of this sort are also sold in bigger towns. I visited mobile phone shops in nearby Siem Reap, a 100,000-strong town that thrives thanks to its proximity to the temples of Angkor Wat, where vendors told me a basic feature phone costs $20. Samsung and Nokia dominate the market, but LG currently has a $10 model on sale. Many local shops displayed vinyl banners advertising the handset.
In Siem Reap, local carriers' promotions were everywhere: an outfit called Beeline offers black and yellow handsets from $15, locked to its network, which shows just how attractive that $10 LG will be.
The city's stores also had just about any other smartphone you could imagine on sale, at prices just about level to those on offer in more developed nations. Even very new handsets like the Galaxy S4 were on offer.
Some phones looked a little suspicious: a used "iPhone 3G" I was allowed to hold was startlingly white for a four or five year old device and also bore a regular crack around the perimeter of its rear casing. The vendor insisted it was genuine and when I turned it on it behaved just like an iPhone. I wasn't allowed to remove it from its cling wrap cover to put the matter to rest, but that crack looked like it would allow the phone's back to come off, which wasn't one of Steve Jobs's signature moves. Outside of the shops I visited, I never saw a local using a smartphone. But feature phones were ubiquitous. Even in Prek Toal, just about everyone we saw had a phone. The family I stayed with turned theirs on at daybreak, sparking a little chorus of electric birdsong.
FM radios seemed a popular accessory: many phones I saw in a local market (definitely not a tourist venue, although it deserves to be) and a silk factory (a tourist trap from central casting) were pumping music out through their tiny speakers. It turns out that Metfone has a digital music service called iMuzik. Other local carriers have similar offerings*.
Feature phones outnumbered smart phones in the shops, but there were also large numbers of phones with decent-sized screens and the collection of buttons you'd expect to see on a feature phone. Some even bore stickers explaining they could play Angry Birds, a game whose characters enjoy the status of Disney movie characters.
Just what operating system they ran or how the game arrived on the phone remained mysterious. But the phones have quickly found themselves in the familiar role of digital babysitter: I saw more than one pre-schooler with eyes fixed on the small screen and thumbs flying.
Phone shops told me that most Cambodians use pre-paid vouchers, at $1 apiece. Calls cost about ten cents a minute. TXT messages cost two or three cents. Data was more pricey, but also faster than local internet cafes and their promise of three-megabytes-per-minute downloads.
Vendors also offered me coverage maps that show, like this one from another Cambodian carrier Smart, that Prek Toal's not on the fringe of connectivity. Local carriers clearly feel it's a market worth servicing.