Mayor of London Boris Johnson has unzipped the flies on the latest work of art to be commissioned for Trafalgar Square's fourth plinth: a giant blue cock that proudly stands at 4.72 metres high.
The unkempt, shock-headed Tory couldn't resist a bit of willy-waving in the direction of Prime Minister David Cameron either, by sagely noting, according to The Times (£), that Whitehall's crusade against net porn could prove unfortunate for his beloved, French-themed cock. He said:
"This beautiful sculpture: if you were to Google it in a few years' time you would probably not be able to find it because that search engine would probably collapse at the behest of the Prime Minister."
The massive cockerel, dubbed Hahn/Cock, was created by German artist Katharina Fritsch, who explained that the name was poking fun at the fact that a woman had created a male image.
Hahn is German for a rooster and Cock is, well, English for the bird that is France's unofficial national symbol.
As for our Gallic chums, BoJo couldn't resist quipping:
"It is a symbol of French sporting pride brought like a chicken to London and we have mounted this French cock in our square," reported The Times.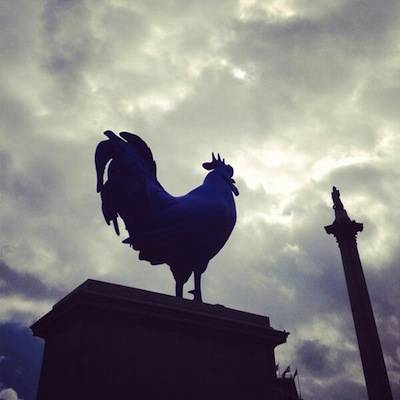 Surely a big yellow bird would have been better? Image courtesy of The Fourth Plinth
He added: "I hope people in France will not take this as excessive British chauvinism, but for me it stands for the recent British triumph in the Tour de France, which we've won two years in a row."
It's good to know that London now has a massive cock in the middle of our great capital city. Oh wait. Doesn't someone fill that role already ... ? ®