This article is more than 1 year old
SolidFire snaps up $31m in funding, brandishes 3.4PB monster
100-node giant far outstrips competition, reckons upstart
Cloud flash array startup SolidFire has snagged $31 million in C-round funding and revealed a bad-ass flash array delivering up to 7.5 million IOPS - and a claimed 3.4PB capacity.
That capacity in SolidFire's SF9010 is after dedupe, compression and thin provisioning have been applied, and with the maximum of 100 nodes ganged together. The minimum node count is five.
Each node is a 1U rackmount shelf offering 9.6TB of raw capacity using ten 960GB Samsung MLC SSDs; SM843Ts, El Reg's storage desk thinks, using toggle-mode NAND with a 29nm-20nm geometry size. SolidFire's previous two systems, the SF3010 and SF6010, used Intel SSDs.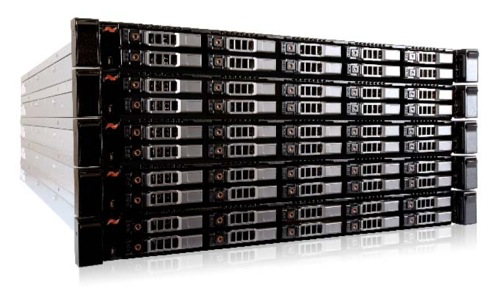 5-node SF9010
Each node delivers 75,000 random read 4K IOPS. Total raw capacity with 100 nodes is 960TB with the claimed effective capacity being 3.4PB, which compares favourably, SolidFire says, to EMC's VMAX 40K (with 3.2PB using 3TB drives and RAID 6) and HP 's 3PAR StoreServe 10K, with 1.6PB using 2TB drives and RAID 6.
SolidFire claims a 100-node config delivers a lower $/GB value than disk-based SANs and offers 20 times the performance of such a SAN. This performance is delivered reliably to apps using the array through guaranteed quality-of-service arrangements. With this setup apps do not, SolidFire says, suffer storage access performance loss through "noisy neighbours" hogging excess bandwidth.
It's issued a chart showing that the IOPS and capacity levels of its arrays dwarf those of start-up competitors Violin and Nimbus Data, and also those of EMC's XtremIO, EMC, NetApp and 3PAR disk drive arrays. In effect it's saying it doesn't compete with any of these systems because they don't compete with it in its IOPS/PB capacity ballpark.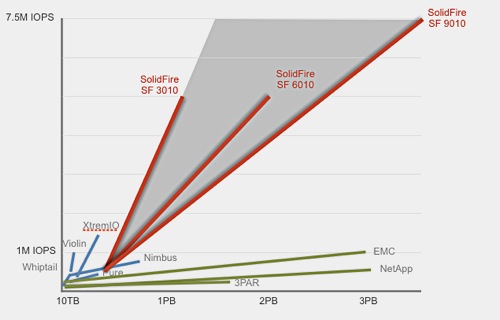 SolidFire array positioning
SolidFire has also announced a refresh of its Elements OS which provides:
VMware VAAI support
VMware VASA support
128-bit encryption at rest
User interface improvements that delivers cluster and per volume queue depth and latency, and provides clear understanding of application workload
User interface and API provide app performance detail

The production and delivery and sales performance of the first two SolidFire arrays, the SF3010 and SF6010, has galvanised SolidFire's VCs to give it $31 million in its C-round. This was led by Samsung Ventures, which is spreading Samsung's flash array tentacles wider; the Korean giants already having an investment in Fusion-io along with financial links and technology agreements with Seagate for flash. Existing SolidFire backers piled in again too.

SolidFire has now raised a total of $68m. The new money is going to be used to bulk up its sales and marketing infrastructure and build on a customer base that includes European cloud services firm Colt with 20 carrier-neutral data centres across Europe.

SolidFire looks to be on fire with a neat marketing message that nicely sets it apart from other suppliers, and a 3-product line-up that covers the market ground it's aiming at. We're guessing that it would be no surprise if existing mainstream vendors were to be casting acquisitive eyes at it. ®