All-flash Hitachi array grabs silver in benchmark race - by a whisker
Still utterly outpaced by all-RAM monster in pole position
An all-flash build of Hitachi's VSP array has claimed the second-highest SPC-1 benchmark, the highest for a traditional storage array.
The SPC-1 benchmark tests the performance of storage arrays doing random read and write I/O operations typical of business-critical applications. An all-flash VSP, using Hitachi's Accelerated Flash technology, achieved 602,219.47 SPC-1 IOPS at a cost/IOPS of $2.86. The cost/IOPS is computed by dividing the tested configuration's list price by the number of IOPS. Few customers will pay list prices for such high-end arrays and so, although the SPC-1 IOPS number is an objective number providing effective performance comparisons between different arrays, the cost/IOPS figure is not.
The fastest storage system on the planet in SPC-1 terms is a Kaminario K2 array, which uses DRAM instead of flash or hard disk drives to store data. Its list price is a relatively low $490,760.00 giving us a seemingly staggering $0.40/IOPS figure. The VSP Hitachi used has a list price of $1,712,620.95.
An IBM Storwize V7000 [PDF], using solid-state drives, produced a $1.50/IOPS number and 512,043.99 SPC-1 IOPS.
We have produced a chart comparing different arrays' SPC-1 IOPS numbers. It's a pain to read the text so click on the chart for a larger and thus more readable version: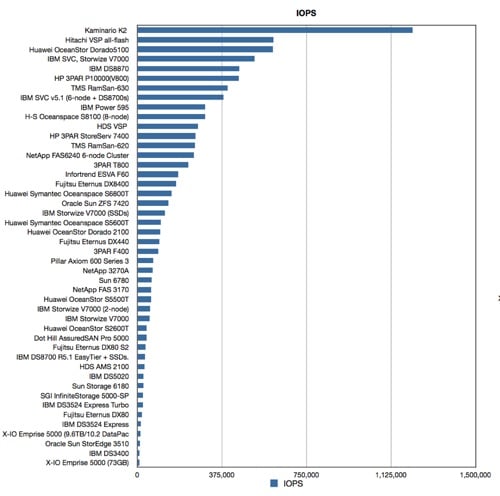 SPC-1 IOPS rankings ... click on chart for larger version.
Hitachi prefers a comparison with a top-end IBM DS8870 array [PDF] which did 451,082.27 SPC-1 IOPS at $10.81/IOPS; the VSP is comfortably ahead of that.
Hitachi also contrasts its VSP result with that of an HP 3PAR V8000 P10000 array [PDF] which scored 450,212.68 SPC-1 IOPS and $6.59/IOPS. Don't be discouraged though - HP OEMs the VSP from Hitachi. ®