AMD's newest chip: Another step toward 'transformation'
Server chips aren't all the AMD-ARM partnership will bring to the data center
---
AMD has added a new low-power chip to its embedded lineup in its ongoing effort to transform from a maker of client and server chippery into a company that earns 40 per cent or more of its revenue from embedded and "semi-custom" chips.
"We're filling out the family," Arun Iyengar, VP and general manager of AMD's Embedded Solutions group, told The Reg on Tuesday, referring to the G-Series SoC line that AMD rolled out in April – before he went on to explain about how AMD will extend its use of ARM-based chips in the data center beyond dense servers.
"When we announced [the G-Series] back in April," Iyengar said, "we had hinted that we would have a lower-power SKU coming out real soon, so this is following up on that hint."
The new chip, the GX-210JA, has a thermal design point (TDP) of 6 watts and an average power of 3 watts, Iyengar told us. When we asked if this were a true TDP, and not a comparatively smoke-and-mirrors "system design point" (SDP) as Intel has used to make its low-power chips look more power miserly than if they were rated by true TDP (as does the rest of the industry), Iyengar said, "This is true TDP as you would think of it – not an SDP or an ADP or whatever DPs you can come up with."
The GX-210JA slots in underneath the GX-210HA, which has a TDP of 9 watts and an average power of – you guessed it – 4.5 watts. Both parts have two AMD "Jaguar" cores running at 1GHz; the differences are that the GX-210JA's graphics core drops to 225MHz from the GX-210HA's 300MHz, and that some IO capabilities have been jettisoned, as well.
"For example," Iyengar said, "we removed the USB 3.0 – we have the USB 2.0. We took SATA to just gen-3." In addition, PCIe has a x4 interface and DDR3 has dropped to 1066 from 1333, and some overall tuning has been done. Taken together, TDP drops by one third, and in the applications for which the GX-210JA is targeted, power is more important than IO and memory performance.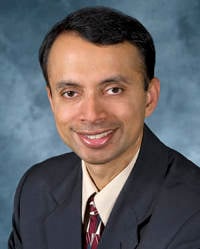 Embedded in AMD: Arun Iyengar
Like the rest of the G-Series chips, the new GX-210JA is baked in a 28-nanometer planar-transistor process, and doesn't employ a shared memory architecture in which the CPU and the GPU on the chip sip from the same pool of memory – that Holy Grail of heterogeneous system architecture will first appear in AMD's "Kaveri" APU line, planned for later this year.
The G-Series chips are, of course, x86-based, as are AMD's more-powerful embedded chips, the R-Series. And so we asked Iyengar what were the advantages of that aging Intel-birthed architecture over, say, ARM in the embedded market - other than the fact that there are at last count eleventy squillion developers around the world that are conversant in x86.
According to Iyengar, x86 and ARM are converging, as ARM moves upward from its low-power, low-performance roots and Intel moves down from its high-power, high-performance roots – but he doesn't expect x86 to be dethroned from its dominant position in the higher end of the embedded world in the foreseeable future.
"Let's talk about things like gaming – and when I talk about gaming I mean casino gaming," he said. "I just came back from Vegas over the weekend, and when you go to Vegas you look at the over-the-top graphics that goes into there, and a lot of that is driven by a very high-performance processor. And most of those – actually all of them – have standardized on x86."
He cited a number of other embedded applications in which x86 chips are the norm, such as medical imaging, telecommunication control planes, industrial machine vision, user-input panels in manufacturing, and factory automation. ARM has its place in factory automation as well, he said, for such applications as motor control, but for overall system control, x86 is king.
Another place where x86 rules the roost is the data center, but ARM is making headway there, as well – in fact, AMD and ARM have a partnership to bring AMD-designed 64-bit Opteron dense-server chips based on ARM's peppy Cortex-A57 to market next year.
But those are server chips, and not embedded ones such as the x86 parts that Iyengar is peddling – so we asked if ARM would find its way into AMD's embedded business. "The positioning for AMD with ARM is in the data center," he said, noting that there are three major elements to a datacenter: servers, networking, and storage.
"If you look at how AMD looks at things, the server belongs to the server group, and the storage and networking belongs to mine, the embedded group," he said. "And the ARM product is targeted across all three of those."
In other words, AMD's movement into embedded and semi-custom chips won't remain an x86-only endeavor: ARM-based AMD chips will join the embedded party as well, and will be part of "transforming" AMD, as CEO Rory Read called the company's reboot when announcing the company's second-quarter financial results a week and a half ago, into a company that earns 50 to 60 per cent of its revenues from x86 PCs and servers and 40 to 50 per cent in "high-growth" markets such as dense servers, embedded applications, and semi-custom chips – both x86 and ARM, it seems.
Although AMD's first foray into ARM involves the high-end Cortex-A57 core, we wouldn't be at all surprised to hear an announcement in coming months about AMD working on designs that involve the energy-efficient Cortex-A53 – or even both the A57 and A53 combined in a "big.LITTLE" dual-design part. ®