This article is more than 1 year old
Cisco and NetApp engage in light consensual FlexPoddery
Channel laps up new storage design templates
Consensual FlexPoddery is the name of the game as Cisco and NetApp rename Flexpod and FlexPod Express, introduce the new FlexPod Select, and add NetApp's E-Series arrays and Cisco's Nexus 7000 big-ass switch to the FlexPod component mix.
FlexPods are template rules for designing converged server, storage and networking systems using Cisco servers and switches and NetApp FAS arrays. Partners build and ship the systems. ExpressPod was the version targeted at medium-sized businesses.
Now the main FlexPod template set becomes FlexPod DataCenter, targeted at enterprise and cloud provider data centres, and featuring the two partners' biggest iron.
FlexPod Express is the renamed ExpressPod and is for medium-sized businesses and branch offices. The all-new FlexPod Select is for specialised business environments, and only the Big Data one at the moment with Hadoop support. We expect more over time.
FlexPod DataCenter specifies Cisco UCS servers, the UCS Director and Nexus switches, including the Nexus 7000. NetApp FAS arrays and Clustered Data ONTAP provide the storage elements of the mix and connectivity comes from a 10GbitE fabric. The Nexus 7000s support up to 768 10GbitE ports and enable end-to-end FCoE (Fibre Channel over Ethernet).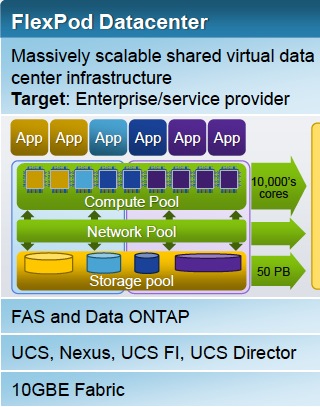 FlexPod DataCenter
There is a variant of FlexPod Datacenter with SnapProtect to provide a disk-to-disk-to-tape (D2D2T) backup and recovery solution, with, NetApp says, "specific implementation guidance for popular uses such as with VMware, NAS shares, and Microsoft Exchange."
FlexPod Express uses NetApp entry-level FAS 2220 and 2240 arrays, Cisco Nexus 3000 switches and UCS C-Series switches and a slower 1GbitE fabric.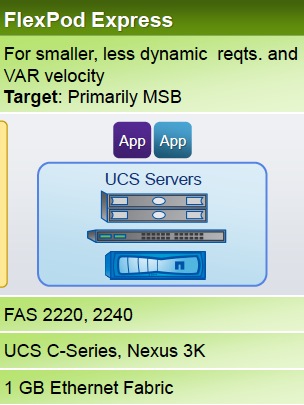 FlexPod Express
FlexPod Select marks the introduction of NetApp's faster data ingesting E-Series arrays as an alternative to the standard FAS arrays. There are UCS servers, and Nexus, Catalyst and MDS networking switches enabling direct-attach, Fibre Channel and 10GbitE connectivity.
There are two validated Hadoop configurations, utilising Cloudera's distribution or the Hortonworks Data Platform.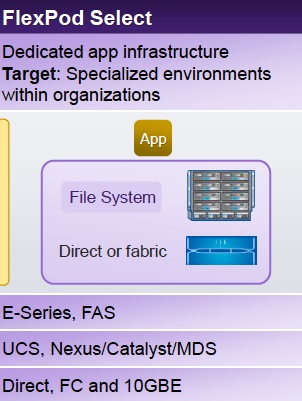 FlexPod Select
NetApp and Cisco claim to have secured over 2,400 FlexPod customers since the template set's launch in 2010, and further claim that more than 900 channel partners are selling the systems. Cisco's Jim McHugh, the veep for its unified computing market, blogs about the new kit here. So too does NetApp at its NetApp 360 blog site (registration required).
McHugh says FlexPod DataCenter provides Data Center Interconnect (DCI) capabilities for multi-data center deployments. He also mentions an "updated FlexPod Datacenter with Microsoft Private Cloud to include support for Microsoft System Center and the Cisco Nexus 1000v switch." ®