Oxford Street stalwart Selfridges will plunge into the 3D-printing business with a pop-up shop - just in time for the Christmas rush.
The store within a store comes from London's iMakr, which has its own 3D printer outlet on London's Clerkenwell Road (and dangerously close to Vulture Central's new digs).
Visitors to Selfridges will thus be able to print out a scan of their own body, upload a 3D model for printing, or just pick a toy from the designs offered by MyMiniFactory.com - such as this sword-wielding Batman figurine: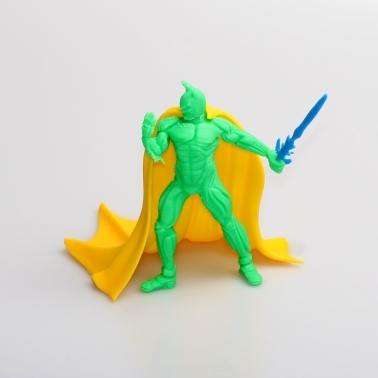 Sword-waving snot-coloured Caped Crusader ... holy copyright, Batman!*
"Every object is original and unique," says My Mini Factory, which is helping out iMakr in Selfridges. The vast majority of them are but as we've pointed out before the 3D revolution won't be driven by printed guns or machine parts, but by copyright-abusing parents who don't want to pay Disney for creating and developing a Mickey Mouse figurine, just for the plastic used to create the toy.
We're still not there, of course. Our Batman isn't going to delight any child when found under the tree at Christmas, but it is an evolutionary jump from last year's offerings that so impressed Steve Bong.
Even My Mini Factory admits that most of its models are show pieces; something with which to impress fellow hipsters at dinner parties - the only gun they'll print is a Playmobile compatible - but the quality is improving fast.
The Selfridges store opens on 24 October, and will print stuff until the end of 2013 when the upmarket emporium takes the space back again. Costs for printing will vary, but the 3D Printing Industry blog reports that being scanned and printed will cost between £50 and £200, and mentions the 48-hour wait as well as listing a few job vacancies for those interested in seasonal work.
Mostly this gives iMakr an additional sales floor, and a chance to show off 3D printing to the huge number of shoppers who'll be passing though Selfridges in the run up to Christmas. Not many of those will buy 3D prints, or printers, this year, but more than last year and fewer than next as the revolution slowly gathers pace. ®
* There is no suggestion of any wrongdoing. We've asked My Mini Factory if it has a licence from DC Comics to reproduce Batman, but they've not responded. It is perfectly possible permission was obtained and that the copyright holder is happy to see the Caped Crusader in green and wielding a sword.