Plods probe death threat tweets to MP - but who will rid us of terrible trolls?
Have a word with their mothers
---
+Comment Twitter UK was in damage-limitation mode overnight after high-profile British women were bombarded by sick threats and abuse - and the trolling made front-page headlines.
Labour MP Stella Creasy complained to police on Monday evening after receiving a death threat from an anonymous tweeter. Scotland Yard said this morning:
Officers in Waltham Forest [northeast London] received an allegation of malicious communications from an MP. The allegation relates to comments made on Twitter and is currently under consideration.

We have been made aware of further posts today, Tuesday 30 July, and enquiries are ongoing.
Earlier, feminist campaigner Caroline Criado-Perez had told police she was threatened with rape on Twitter following the success of her efforts to get author Jane Austen on England's £10 notes. A 21-year-old man in Manchester was arrested on Sunday by cops investigating the complaint.
Creasy, who backed the Austen campaign, retweeted many of the depraved messages Criado-Perez received as a result of her banknote breakthrough to highlight the problem of trolling to her 31,500 followers.
Some attacked the MP for "encouraging" the abuse by retweeting the trash talk. Dismissing claims the messages were mere jokes, Creasy hit back: "If you think this is banter you really need to wake up - in 21st century rape threats ain't witty."
Last night, Twitter put out a pleading blog post to Brits that was titled: "We hear you." The company made clear it will soon add a one-click report-a-tweet button to the network's Android app and web interface. At present, that functionality is only present in the iPhone app. Netizens who post offensive tweets may be thrown off the service if their messages are reported, Twitter said.
The network added:
We are not blind to the reality that there will always be people using Twitter in ways that are abusive and may harm others.

While manually reviewing every Tweet is not possible due to Twitter's global reach and level of activity [400 million tweets sent daily worldwide], we use both automated and manual systems to evaluate reports of users potentially violating our Twitter Rules.

These rules explicitly bar direct, specific threats of violence against others and use of our service for unlawful purposes, for which users may be suspended when reported.
The Association of Chief Police Officers said today that investigating every horrible message sent over the internet would completely overwhelm Blighty's cops. In a statement the top brass put the ball firmly in Twitter's court:
There are many grossly offensive, indecent and obscene comments made every day on social media that will not meet the threshold [of securing a successful prosecution] and where the police should not be involved. Thousands and thousands of potential crimes would cause great difficulty for a hard-pressed police service. We would like to see social networks do more to take actions such as instantly suspend accounts where it might be appropriate.
Comment
While some have said that those who receive such abuse on the micro-blogging site should simply ignore the attacks and view them as empty threats, others have argued that there is something of an online harassment campaign to try and silence powerful women on Twitter.
The argument isn't a new one and it certainly ain't confined merely to that social network. There have always been angry people saying angry things on the interwebs. What is significant, however, is that Twitter gives trolls a potentially much larger, more mainstream platform to spout abuse at politicos and celebrities in a way that wasn't quite so attainable before.
Should women in the public eye be cowed by the trolls, then?
Absolutely not. But there is a balance that has to be addressed between freedom of expression and hateful, legitimate rape and death threats that unquestionably should be investigated by the police.
Director of Public Prosecutions Keir Starmer's recently issued guidelines about tackling the trolling phenomenon ought to be a good starting point - not just for those dealing with the law, but perhaps also for those of us who openly engage with others on social networks.
Blaming Twitter won't, of course, solve this problem. The company is having to consider a similar approach to that taken by police and prosecutors in the country by balancing freedom of expression with nasty threats made to individuals on the service.
On Monday, Tory MP Claire Perry - who has been pushing for stringent access controls to internet porn and other legal content online - waded into the row about abuse on Twitter last night by retweeting examples of messages she had received from others on the site.
But, unlike the harassment suffered by Creasy and Criado-Perez, much of Perry's attack against the haters appeared to be opportunistic and a bit of a mis-step. Some of the tweets she linked to were arguably fair comment or, at worst, an attempt at a really bad joke.
For example, one person responded to Perry's tweet about political blogger Guido Fawkes, whom she had a very public spat with last week, after she said: "Talking to Sun on Sunday to make sure they know the views of their political columnist @GuidoFawkes re Internet porn."
The MP went on to characterise the following tweet as trolling:
"Why? Do you plan on appearing on Page 3? That would kill the UK porn industry pretty quickly."
She might be right - that probably is a classic, misogynistic troll comment. But it differs heavily from the sort of frothing abuse levelled against Creasy and Criado-Perez, who both appear to have been victims of potentially serious threats that are now being investigated by the police.
Perhaps, though, Cambridge Professor Mary Beard, who said she would not be "terrorised" online, has the best attitude towards trolls. She retweeted an abusive message from a 20-year-old bloke calling himself Oliver Rawlings, who pathetically labelled her a "filthy old slut".
Then one of the prof's fans told the classicist, who last night was on our screens presenting a programme about the life of Caligula, that "if you would like to send a copy [of] @Rawlings153's tweet to his mother, Joanne, I'd be happy to give you the postal address".
Rawlings was quickly unnerved by the experience. He deleted his slut tweet and apologised for being so rude to Prof Beard. Perhaps we should all take heart from that. ®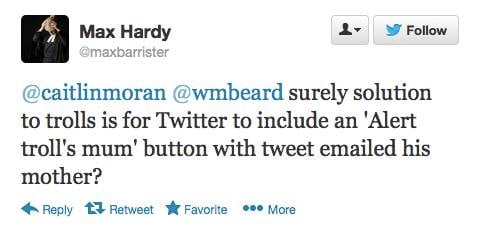 Keep mum … A friendly follower of Prof Mary Beard suggests a much better solution to tackling trolls
Trollnote
We at Vulture Central are well-accustomed to online harassment. Emails that regularly hit your correspondent's mailbox often start out abusive, before softening into an apology at the end. One supposes that there simply isn't room on Twitter for the troll to work up a sweat about an issue he or she is really angry at, before settling down again and realising that - really - there's no point in staying annoyed for very long. It is in fact the shortness of breath on the micro-blogging site that lends itself so well to swears.