"A digital revolution, masterminded by a team of dress-down civil servants, could save the taxpayer billions," The Times newspaper gushed on Tuesday. And behold: it already has. The UK has apparently paid off its national debt years ahead of Chancellor George Osborne's predictions.
Alas, it's no miracle, but an infographics cock-up by the dress-down civil servants at the Government Digital Service, a holy empire that (in theory) reports to the Cabinet Office.
The new Government Interrogating Spending Tool (GIST) purports to "show #GovSpending data visualised in a user-friendly format for 1st time" - but it merely hides the true picture of government spending. That's because it only shows departmental budgets. What it doesn't show is the debt interest payments on government borrowing.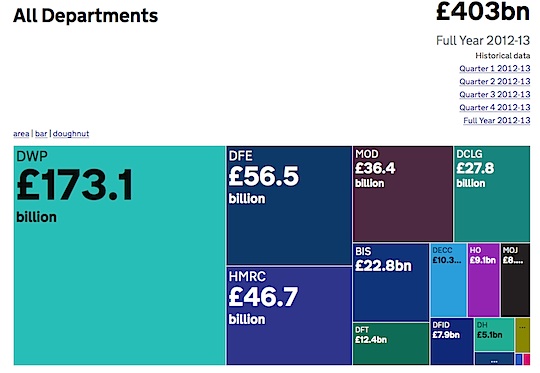 Magic money ... UK Government's web monkeys tackle crucial public spending
As political uber-blogger Paul Staines (better known as Guido Fawkes) points out, if these debt interest payments were included they'd be the third largest block on the annual chart. At £47.1bn, the debt interest is larger than HMRC (which dishes out tax credits worth £46.7bn) and defence spending (£36.4bn). Debt payments are almost as large as the national education budget of £56bn.
The GIST tool also invites you to download the spending data. So we had a go - downloading the detailed information for one department at random.
In return we got a 60-byte CSV file, which when loaded into Excel looks rather like this: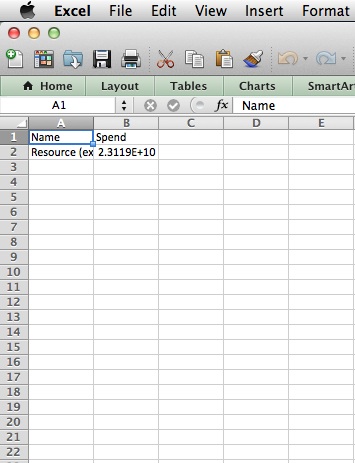 Spread 'em ... this is what #transparency looks like
Surely nobody can quibble with this fantastic exercise in #transparency - it's worth every penny.
The same team agonised for months before settling on a font for the UK government's websites - which picked up a well-deserved design award this year. Who needs the actual data when you can have a beautiful infographic, instead? ®
Bootnote
According to the Times columnist Rachel Sylvester these "Geeks in Jeans are the Treasury's new heroes" [link] and she reports the government's conviction that these web coders will make multibillion-pound IT contracts unnecessary. And why not? Having seen what they can do with an infographic, we can't wait to see what they can do with an Oracle database.