Breaking bad: Oracle's Unbreakable Linux website takes a break
What's in a name, eh, Larry?
---
It might be dubbed "unbreakable", but Oracle's Unbreakable Linux website is certainly stoppable.
The online support network feeding the enterprise-grade distro with fixes and updates will be taken offline by the database giant on Friday. It will be down for three hours from 3pm Pacific time (11pm UK) on 2 August, the company said, citing "scheduled maintenance".
Oracle has advised users to "plan accordingly". The website is described by Oracle as "a comprehensive resource for Oracle Linux support subscribers, and offers access to Linux software patches, updates and fixes".
Oracle chief executive Larry Ellison unveiled Unbreakable Linux in October 2006 at his company's annual OpenWorld conference in San Francisco, California. He hoped Oracle's flavour of the open-source operating system would compete with Red Hat by providing a "better" Linux distro.
"This is capitalism, we are competing. We are trying to offer a better product at a lower price. We expect them to improve their product and price," Ellison told Oracle OpenWorld.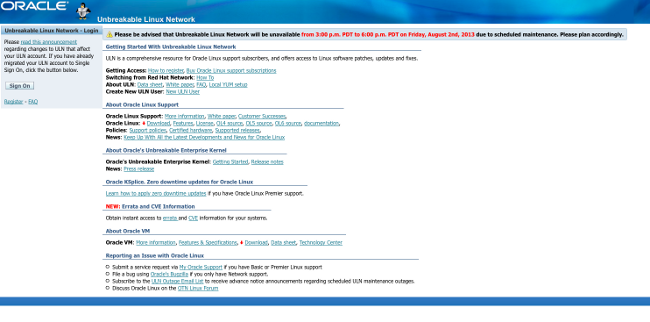 Unbreakable no more ... Oracle's Linux support site is going down
Oracle's big-biz-friendly Linux is actually based on the Red Hat Enterprise distro and was intended to steal the RHEL support business out from under Red Hat.
While Oracle has notched up Unbreakable Linux customers, however, Red Hat remains the market's number-one distribution provider: it grew its revenue by 17 per cent, year on year, to $1.13bn in the 12-month period to March 2013. Oracle claims Unbreakable Linux customers include Dell, Yahoo!, iHop, Mitsubishi Corporation and Nissan.
Oracle's Linux support website is powered by the company's Application Server 10g, which can run on Windows, Linux and other operating systems. Thanks to Reg reader Mike for the tip. ®