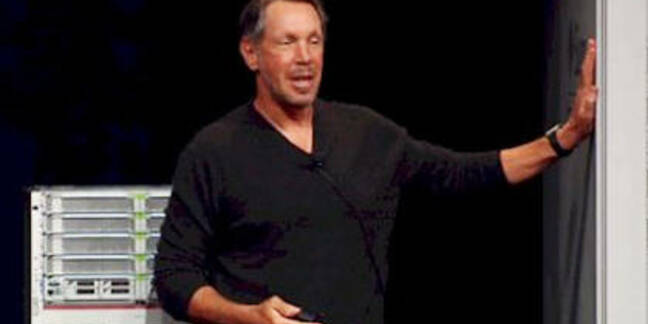 It looks like Oracle is getting ready to roll out another in its line of so-called "engineered systems" – stacks of hardware and software tuned for very specific workloads. This one, which Oracle is getting set to announce in a webcast on August 13, will be aimed at "enterprise virtualization."
Presumably it will have a name that begins with "Exa," to fit in with the Exadata database appliance, the Exalogic middleware appliance, and the Exalytics in-memory database appliance.
It seems very unlikely that Oracle will kick out a variant of the Sparc SuperCluster based on its homegrown Sparc T5 processors and pitch it as an enterprise virtualization platform, but in an earlier time Sun Microsystems certainly would have done a Sparc version first and maybe an x86 version second, depending on the mood of cofounder and former CEO Scott McNealy.
Wim Coekaerts, Oracle's senior vice president of Linux and virtualization, will host the new Exawhatever engineered system launch, and the invite to the event says the setup will include Oracle VM Server, the implementation of the Xen hypervisor that Oracle has cooked up with some spicing from the former Virtual Iron.
Remember those guys? Virtual Iron was known as Katana Technology when it was in stealth mode and tried to lash x86 machines together like ScaleMP is still doing, as well as cutting them up with Xen into virty machines. Oracle snapped up Virtual Iron in May 2009, and basically threw all of it out except for some of the CPU and storage management software in the VFe hypervisor.)
The impending virty engineered system will also include Oracle Virtual Networking, which is the Big Larry name for the I/O Director products that Oracle got through its July 2012 acquisition of Xsigo Systems. I/O Director is a funky InfiniBand switch that runs one fat cable to each node in a cluster, and then emulates Ethernet network interfaces for network connectivity between server nodes and Fibre Channel adapters between servers and storage arrays.
In April, Oracle gussied up the I/O Director products – now called the Oracle Fabric Interconnect F1-15 and F1-4 (with the last number designating the number of I/O modules in each virtual switch) – with support for the Solaris variant of Unix and the Sparc T5 and M5 servers that launched earlier in 2013.
Oracle is cooking up something that includes Xsigo converged switching
It would be interesting to see Oracle support Solaris and its containers – a kind of virtual private server – as the virtualization layer on this cloudy infrastructure appliance. This, however, seems unlikely given that the company is promising a mix of operating systems on the forthcoming box. Oracle can support many Solaris 10 and 11 instances inside of Solaris 11 containers, whether they are on x86 or Sparc iron, but it is a Solaris-only play. To support multiple operating systems – including Linux, Windows, and Solaris – Oracle has to go all the way and provide full server virtualization with a hypervisor like Xen. In this case, it will almost certainly be Xen, and it will support those three key operating systems.
The real question is what will the Exa enterprise virtualization appliance use for hardware? Two-socket Xeon E5 servers seem to be the logical choice, with a four-socket Xeon E5 option and possibly a four-socket Xeon E7 option. Given that hypervisors are being tuned to use flash memory to speed up their performance, El Reg expects some kind of in-chassis flash to store hot data, with integration out to external storage arrays.
Alternatively, Oracle could create converged server/storage nodes with lots of compute and lots of disk and flash capacity, and just use the Xsigo I/O director switches to link the machines together. At that point, the Xsigo switch is just a funky InfiniBand switch with 40Gb/sec links that are emulating Ethernet coming out of the server with some funky fabric to better manage the east-west traffic between server nodes in a cloud.
Or, Oracle could offer options to do it either way. We will find out in a two weeks.
Oracle is no doubt trying for more lucrative x86 server sales, and is positioning a new Exa box against Dell's Active Infrastructure, IBM's PureFlex, and HP's Virtual System and CloudSystem infrastructure cloud stacks. There are others selling converged systems and storage with integrated virtualization, as well. And Cisco Systems is also getting some traction in cloud computing with its Unified Computing System modular machines.
It is not clear that enterprises and service providers are adopting these stacks in droves rather than building them from raw server, switching, operating system, and cloud controller components. It all comes down to the price and how much companies want to be locked into a particular hardware set and management framework.
But one thing is for certain: all the big players in the systems racket think they need to sell an infrastructure cloud in a box. ®
Sponsored: Webcast: Discover and secure all of your attack surface