Edward Snowden skips into Russia as Putin grants him asylum
NSA whistleblower gains 12-month approval to stay
NSA whistleblower Edward Snowden has been granted temporary asylum in Russia.
Russia's decision to grant the former CIA technician temporary political asylum has allowed the 30-year-old to leave the transit area of Moscow's Sheremetyevo airport - where he has been stuck in limbo for weeks following his flight from Hong Kong on 23 June.
US authorities revoked his passport shortly after Snowden outed himself as the source of leaks about the NSA's controversial planet-wide internet surveillance programs.
The resulting lack of travel documentation meant Snowden could neither leave Russia nor enter it, dumping him in the airport's neutral transit area.
Snowden's legal representative in Russia, Anatoly Kucherena, confirmed that papers allowing the ex-NSA contractor to live and work in Russia for a year had been obtained. Snowden has already fled the transit zone of Moscow's Sheremetyevo Airport, Russia Today reports, citing eyewitness reports from a crew on the scene.
RT further claims to have obtained a picture of Snowden's temporary visa, in a still captured by one of its news crews at the airport: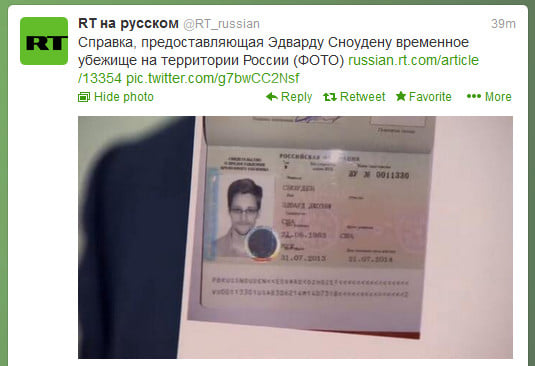 Edward Snowden's asylum documents, as claimed by Russia Today
Wikileaks, which has been providing legal assistance to Snowden, confirmed his exit:
Edward Snowden was granted temporary asylum in Russia for a year and has now left Moscow airport under the care of WikiLeaks' Sarah Harrison

— WikiLeaks (@wikileaks) August 1, 2013
Kucherena said that Snowden's location would remain a secret due to ongoing concerns for his well-being and safety.
Moscow was supposed to be a stopover for Snowden en route to permanent asylum in either Ecuador and Venezuela, it is understood. Ecuador, which gave Snowden papers that allowed him to fly between Hong Kong and Moscow, got cold feet about extending an offer of permanent asylum after the US threatened it with trade and diplomatic sanctions.
The private jet of the Bolivian president was denied clearance to fly over Spanish, French or Portuguese airspace last month over suspicions Snowden might be on board. These rumours proved to be groundless, but illustrated the practical problems Snowden faced if he wanted to reach any of the three South American countries, including Venezuela and Bolivia, which had offered him asylum.
Snowden applied for political asylum in Russia last month, announcing the move during a press conference in the Moscow airport's transit area. Russian President Vladimir Putin previously said asylum for Snowden would only be possible possible if the leaker stopped harming the US (he must "cease his work aimed at inflicting damage on our American partners", as the ex-KGB officer put it). It's unclear if Snowden has agreed to this condition.
Snowden's extended stay in the Moscow Airport's transit area frequently started resembling scenes from a Hollywood movie. Attempts by international journalists to locate him went amusingly awry when the press pack boarded a non-stop alcohol-free flight to Havana that Snowden was booked on but never took. Best of all was an impromptu marriage proposal by ineffective Russian spy-turned-TV-presenter Anna Chapman. ®