It isn't clear how NSA leaker Edward Snowden plans to support himself, now that he's been granted 12 months of asylum in Russia. But if he wants a job, the door is open for him at VK, Russia's version of Facebook.
Writing that he was proud of Russia for having accepted Snowden's asylum application, Pavel Durov, one of the founders of VK (also known as VKontakte, or ВКонтакте in Russian) posted to his personal page that he would be glad to have the 30-year-old fugitive on his payroll.
"We invite Edward to St. Petersburg and will be happy if he decides to join the stellar team of programmers at VKontakte," Durov wrote (and we translated, with help from Google). "In the end, there is no more popular European internet company than VK. I think Edward might be interested in protecting the personal data of millions of our users."
The 28-year-old Durov, who has occasionally been described as "Russia's Mark Zuckerberg" for his role in founding VK, is known for his self-described libertarian views, and is believed to have a personal net worth of around $260m.
VK today boasts over 100 million active users, and serves pages to an average of 46 million users per day. While that's a far cry from Facebook's claimed 1.15 billion active users, it's still enough to make VK the second largest social network in Europe.
It's grown so successful of late, in fact, that US celebrities such as Tom Cruise, Kevin Spacey, and even Eminem have started maintaining official VK profiles for their fans abroad.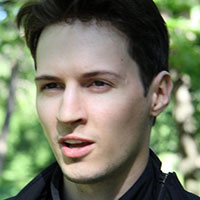 At 28, Russian VK founder Pavel Durov
is even younger than Snowden
The service is particularly popular in post-Soviet countries and with native Russian and Ukrainian speakers around the world, but it's also available in English and a long list of "unofficial languages" via machine translation. The word "ВКонтакте" translates as "in contact" in English.
Just what Snowden's duties would be if he accepted a position at VK is not clear – but then, his exact duties while employed as a US government security contractor are a bit sketchy, too. Intelligence officials have referred to him as a "systems administrator", while he has described himself as an "infrastructure analyst".
Either way, Snowden's greatest value to VK will likely be as a public relations tool. VK has reportedly been coming under increasing pressure from the Russian government, which has made no secret of its desire to take greater control of internet traffic, particularly where political speech is concerned. By involving his company in the high-profile Snowden affair, Durov could gain new advantage to help keep the Kremlin off VK's back.
Snowden has yet to respond to Durov's employment offer, however, and he may need some time to think about it. According to the Russian RT news service, Snowden attorney Anatoly Kucherena says VK isn't the only Russian company interested in the former intelligence analyst – and there have been other proposals, as well.
"When I told him about the people who were calling him," Kucherena told reporters, "including girls, such Russian girls, he told me 'Anatoly, I still miss my girlfriend'." ®
Similar topics