This article is more than 1 year old
USB accelerates to 10 Gbps
Version 3.1 signed off, Intel doesn't see it as unwelcome thunderbolt
Universal Serial Bus, the connectivity standard so ubiquitous the world has long stopped caring about the derivation of the USB acronym, has just been upgraded to 10 Gbps.
The upgrade comes in the form of a .1 release, USB 3.1, that is backwards compatible with USB 3.0 and 2.0 kit. The new speed will only be achievable with kit using USB 3.1, but such products will work just fine in older USB ports.
The move to USB 3.1 was foreshadowed back in January 2013, so is no surprise, not even to Intel, whose Architecture Group veep Alex Peleg says in the canned statement (PDF) noting the new spec that "The industry has affirmed the strong demand for higher through-put, for user-connected peripherals and docks" and "Intel is fully committed to deliver on this request."
We mention Chipzilla because it's been pushing its own Thunderbolt I/O standard as an alternative to USB. Those efforts have been less than astoundingly successful, as peripheral-makers have not adopted the standard, leading PC-makers like Acer to walk away because there's no point adding a feature users don't want.
Thunderbolt's still faster than USB 3.1 – the second version of Intel's baby hums along at 20 Gbps – and it has daisy chaining tricks that USB doesn't match. USB's retort is to point to the scoreboard of signed-up, productive, peripheral-makers. Thunderbolt's list mentions fewer than 120 products using the technology.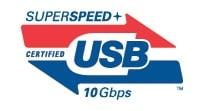 The USB 3.1 logo
The USB Implementers Forum says it has 800 members, and the space fiend alone knows how many products they collectively offer.
Information sessions on USB 3.1 kick off on August 21st. There's no word on when kit using the new version of the standard will land, but as the standard's been kicked around between USB forum members for ages there are few impediments to its implementation. The Reg sees no reason version 3.1's new logo won't appear on products by the new year. ®