Liquid hot magma from the Earth's mantle can shoot up to the surface via a "highway from hell" over just a few weeks, volcanologists have discovered.
Boffins studying the Irazú stratovolcano in Costa Rica, and specifically its eruption between 1963 and 1965, found the first hard evidence of high-speed magma ascents. This proves volcanoes aren't necessarily created over thousands of years.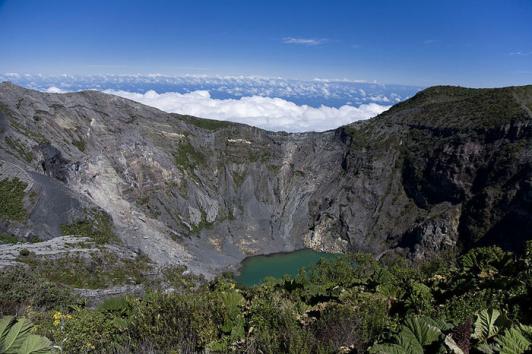 Is that you, Irazu? The volcano in Costa Rica
The boffins found that deep, hot lava can rapidly set off an eruption like that of Irazú in the 1960s. This could help them to forecast future dangerous eruptions, they wrote in a new study.
"If we had had seismic instruments in the area at the time we could have seen these deep magmas coming," said the lead author, Philipp Ruprecht of Columbia University's Lamont-Doherty Earth Observatory. "We could have had an early warning of months, instead of days or weeks."
Irazú, which is over 3,000m tall (10,000ft) and covers nearly 518km2 (200 square miles), and erupts around every 20 years or less, with varying levels of damage. Its eruption in 1963 went on for two years, killing at least 20 people and burying hundreds of homes in mud and ash.
The volcano sits on the Pacific Ring of Fire, where the oceanic crust is slowly sinking beneath the continents, producing some of the Earth's most fiery explosions.
Boffins had thought that mantle magma feeding the eruptions sat around in a mixing chamber several miles under Irazú for long periods of time. But ash from the volcano's prolonged blast is the latest to suggest that lava sometimes bypasses the chamber altogether, rushing over 20 miles to the surface in just a few months.
"There has to be a conduit from the mantle to the magma chamber," said study co-author Terry Plank, a geochemist at Lamont-Doherty. "We like to call it the highway from hell."
Crystals of the mineral olivine separated from the ashes of the 1960s eruption were collected on a 2010 expedition to Irazú and unexpectedly revealed traces of nickel, a trace element found in the mantle. The spikes of the metal told the researchers that some of the magma was so fresh, the nickel hadn't had time to diffuse.
Irazú is just the latest volcano to back up the theory of fast-rising lava. The famous Icelandic volcano Eyjafjallajökull, which caused so much flight disruption in Europe in 2010, was set off in a chain of eruptions that suggested some magma was coming from deep down. Mount Pinatubo in the Philippines, which spewed so much gas and ash into the atmosphere in 1991 that it cooled the Earth's climate, also saw hundreds of deep earthquakes in the weeks leading up to its eruption.
"The study provides one more piece of evidence that it's possible to get magma from the mantle to the surface in very short order," said John Pallister, who heads the US Geological Survey (USGS) Volcano Disaster Assistance Program in Vancouver, Wash. "It tells us there's a potentially shorter time span we need to worry about."
The study, "Feeding andesitic eruptions with a high-speed connection from the mantle", was published in Nature. ®