Moto X: It's listening to you. But can voice control finally take off?
US factory will deliver your custom phone in four days
---
After much teasing, Motorola Mobility has finally unveiled the Moto X phone it's hoping will restore the company's fortunes - and help repay the $12.5bn Google splashed out on the troubled mobile phone vendor.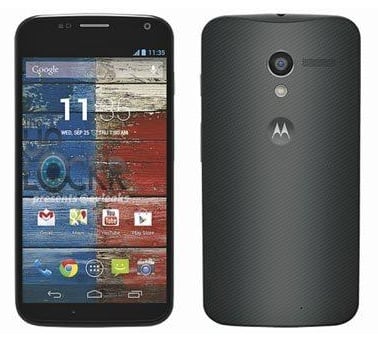 The basic handset has a 4.7-inch, 1280-by-720 pixel AMOLED screen, 2GB of RAM, 802.11a/g/b/n/ac Wi-Fi, no removable storage, and has a 10MP camera on the back and a 2MP front-facer. It runs Google's operating system Android, version 4.2.2, and its designers say the 2200 mAh battery is good for 24 hours of use between charges.
The phone's X8 chip comes with discrete cores for voice commands and gesture controls, and executives at the launch event in New York demonstrated how a spoken "OK Google" request allows hands-free navigation and search.
The Moto X uses sensors to constantly be aware of ambient light conditions and the orientation of the device. If you need the camera in a hurry, flick the phone over twice and the camera function automatically starts up and you can take a picture just by pressing the display.
These sensors are coupled with Google Now, so that the device can give local information and manage schedules to suit the user. It will also display key alerts such as messages and missed calls on the lock screen whenever the phone is turned on.
But voice commands and some snazzy sensor work isn't the only trick up Motorola's sleeve; it is touting the phone's 2,000 personalization options from Motorola's Moto Maker factory in Fort Worth, Texas, which gives the phone its "assembled in America" tag*.
The front of the device comes in black or white, and there are 18 colors to pick for the back of the phone; an inscription can be added as well. The phone's earpieces can be picked in the same color range, as can the trim around the camera and display. Customized phones can be assembled and delivered in four days or less, Motorola promised.
All four major networks – Verizon, AT&T, Sprint and T-Mobile – will be selling the Moto X for $199 for the 16GB version and $249 for the 32GB model. Since you've got no removable storage, El Reg recommends the larger of the two. ®
* It's worth pointing out that Motorola has no plans at the moment to flog the Moto X in Europe.