Flash upstart: We're doing so well we might even tell you HOW well one day
Tintri races towards IPO: Watch out NetApp, EMC
---
Hybrid disk and flash startup Tintri has posted yet another quarter of solid results, while murmurings from its CEO suggest that it might be going public by the end of next year.
The purpose-built VM-aware storage platform maker says it had a very successful Q2 of fiscal 2013, just like it did last quarter. Back then it had 53,000 VMs deployed worldwide. Now it claims it has more than three times as many deployed on its systems than it had in the same quarter a year ago – or 364 per cent growth.
We know there were 58,000 deployed VMs last quarter and nearly 30,000 in the quarter before that. With a bit of judicious guesstimation/modelling we came up with his chart to show its growth: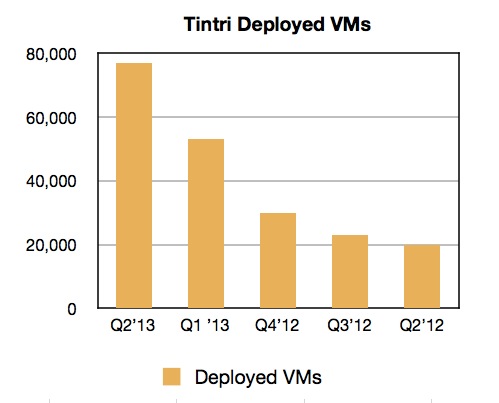 The company's statement about its second quarter results says it has:
110 per cent year-on-year growth in bookings at the mid-year point, meaning market share gains
A tripled enterprise customer base year-on-year and nearly 200 customers in total
Closed the largest deal in its history
Recorded its largest EMEA bookings total to date
Repeat business from nearly 33 per cent of its customer base
As Tintri is not a public company and so does not publish its full results. An IPO filing, however would provide real data on Tintri's business and enable us to see how much money they're actually making...
CEO Kieran Harty believes Tintri is taking market share from EMC and NetApp, and will have $100m in annual revenues by the end of next year and a 30 per cent annual (revenue) growth rate which would enable an IPO to take place.
There are two other fast-growing hybrid flash/disk array companies; Nimble Storage and Tegile. These two say they are also growing like rockets and it's a three-way race to the first IPO. ®