Google has announced that it will begin offering a free device location and security service for Android phones and tablets for the first time later this month, addressing a longstanding omission in Mountain View's mobile OS.
According to a blog post by Android product manager Benjamin Poiesz on Friday, the forthcoming Android Device Manager (ADM) will be a combination of a mobile app and online services that will help Android customers both locate lost phones and protect their data when their devices can't be found.
If your phone is nearby – behind the couch, say, or underneath that stack of old pizza boxes – ADM can let you know by telling it to make a godawful racket. Login to ADM via your Google account, press the Ring button, and the device will holler at its maximum volume, even if you had previously silenced it.
Failing that, unless your gadget is powered off, it must be someplace else. ADM can tell you where – via integration with Google Maps, naturally – though as with all such location technologies, the accuracy of its results depends on the strengths of the GPS, Wi-Fi, and mobile network signals in your device's vicinity.
Finally, once you've ascertained that your device is in a particularly bad neighborhood and you have no intention of going and retrieving it, ADM gives you the option of initiating a remote wipe of all of your phone's data.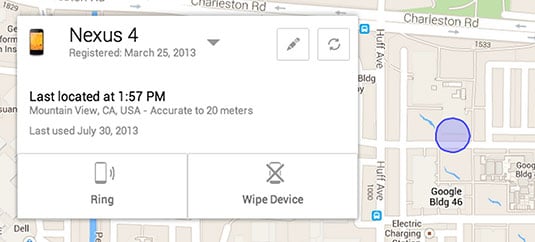 Android Device Manager will be integrated with Google Play and accessible from your Google Account
If you're thinking this all sounds a lot like what your iPhone does already, you're right. Apple's "Find My iPhone, iPad, and Mac" service has provided these and other capabilities since 2010.
This isn't the first time such features have been available for Android devices, either. Several handset manufacturers have bundled similar services with their custom OS mods – this Reg hack thought phone location and remote wipe were two of the more useful features of Motorola's oft-maligned Motoblur skin, for example. And the Google Play store is chock full of equivalent apps, although the good ones generally aren't free.
What's more, ADM still isn't as nice as Apple's offering. Cupertino gives fanbois the option of locking their missing devices so that the only thing their screens will display is the owner's phone number. With ADM, your only recourse when in doubt is to wipe your data, even when you suspect your device will likely be recovered soon.
On the plus side, Android Device Manager will be free and it should work with any device running Android 2.2 or later – meaning it will provide a consistent location and security UI that works with 98.7 per cent of the Android devices in use today (even your grandmother's).
Google's Poiesz did not give a specific date when ADM would become available, except to say that it would come online "later this month." In a separate blog post, however, Android security engineer Adrian Ludwig said the software would be delivered "as part of Google Play." Presumably, then, it will arrive with a future update of the Google Play app that will begin rolling out in the coming weeks. ®
Similar topics