This article is more than 1 year old
Upstart's 'FLASH KILLER' chips pack a terabyte per tiny layer
Resistive NVRAM provides a cornucopia of advantages over NAND, Crossbar claims
Memory-making start-up Crossbar came out of stealth mode on Monday, announcing that it has developed what it characterizes as "very high capacity and high-performance non-volatile memory" based on a new approach to resistive RAM (RRAM) technology, and capable of storing one terabyte of data on a single-layer 200mm2 chip.
That's terabyte, not terabit.
"With our working Crossbar array, we have achieved all the major technical milestones that prove our RRAM technology is easy to manufacture and ready for commercialization," said Crossbar CEO George Minassian when announcing his company's new NAND flash competitor. "It's a watershed moment for the non-volatile memory industry."
Whether Minassian's exuberance is justified remains to be seen, but Crossbar RRAM tech certainly looks good on paper. The company claims that due to the tech's "simple" three-layer structure, it can be stacked in multiple layers resulting in multiple terabytes of storage space in a single chip "the size of a postage stamp."
Performance claims are also worth a gander. Compared with top-notch NAND flash memory, Crossbar claims that its tech will provide 20x faster writes at 20x lower power and with "10x the endurance," all in a die size that's half that of comparable NAND.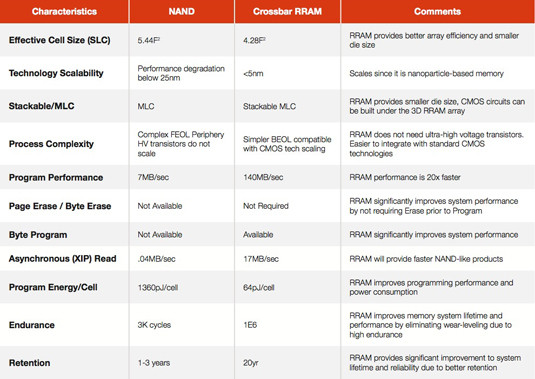 Crossbar claims significant advantages over NAND flash (click to enlarge)
In addition, Crossbar claims that its tech – unlike NAND, which is hitting the process-shrink wall – will easily scale down to the sub–5 nanometer node, can hold data for 20 years, and has ridiculously faster asynchronous (execute in place) read speeds than NAND. How ridiculous? They claim 425x XIP improvements.
Of course, all this claimed goodness would simply provide pie-in-the-sky specs if the Crossbar RRAM parts were too expensive to manufacture at any reasonable price point. Minassian and his team, however, say they've got that covered, pointing to a working Crossbar memory array that they've baked at a commercial fab – although they did not say at what process node this demo array was manufactured.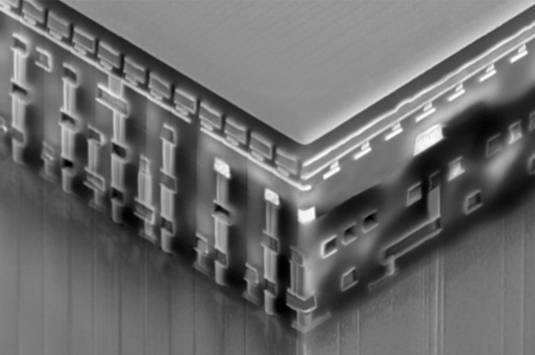 CMOS logic below, Crossbar RRAM sitting on top
By using standard CMOS process technology, they say it would be possible to "easily stack non-volatile memory on top of microcontroller and other logic on FPGAs and highly integrated SoCs at advanced nodes." And yes, they do plan to license their tech to SoC designers.
Crossbar was founded in 2010, is based in Santa Clara, California, and has received $25m in funding, according to VentureBeat, from early investors Artiman, Kleiner Perkins Caufield & Byers, and Northern Light Venture Capital.
For more details on Crossbar's RRAM technology, check out their half-marketing, half-technology whitepaper (PDF). ®