It seems certain that evil alien mastermind Davros - who as any fule kno, created the Daleks - will soon find people criticising him harshly on the grounds that he has erected a huge Dalek made of straw in a Cheshire field as a cheesy marketing gimmick.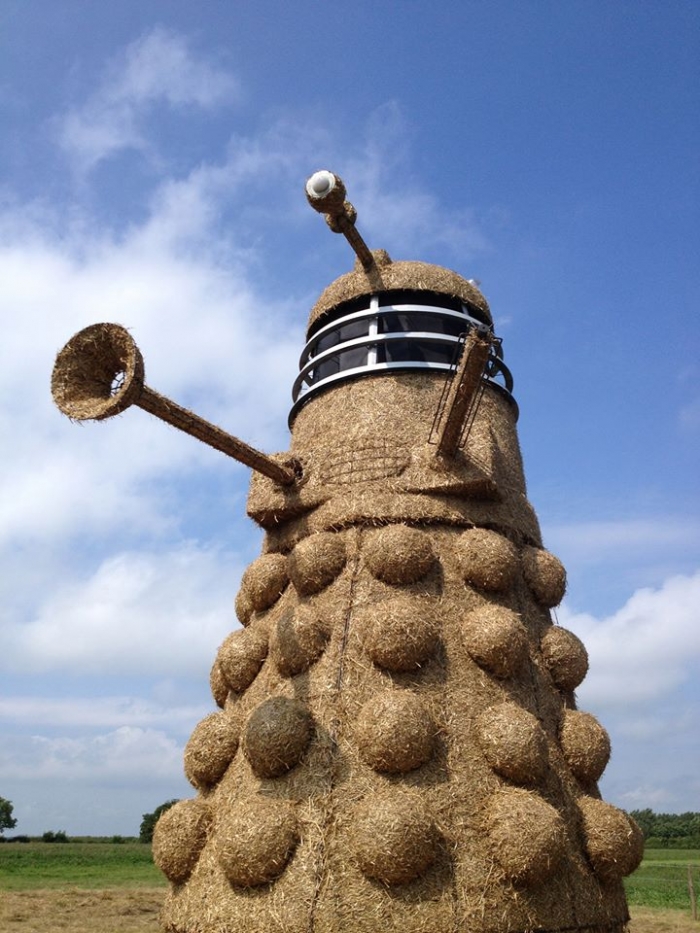 The gigantic corn-dolly daleks feared nothing ... except combine harvesters
The straw-dalek attacks will be unjustified of course, as it is not Davros we have to thank for the recent appearance in the British countryside of a 35-foot-tall, 11-tonne straw edifice representing the travel/combat chassis favoured by the evil Kaled mutants of the planet Skaro. Though in fact this has really happened; it was not merely an idea made up by those keen to discredit Davros.
The people we have to thank for the gigantic straw Dalek are the marketing team at Cheshire firm Snugbury's Ice Cream, who for reasons which no doubt seem good to them have a tradition of erecting mighty straw constructions. Previous examples have included a huge polar bear, an immense meerkat, a straw Big Ben etc etc.
This year they've decided on a Dalek in honour of Doctor Who's 50th anniversary, though apparently some form of enormous straw royal baby was also considered.
The fiendish dairy-based snack overlords have brought out special a "Da-LICK" icecream cone in order to reap the financial rewards of their cunning scheme, though in all fairness they're chipping in some of the proceeds to Cancer Research UK.
Further details are available from Snugburys here. ®