The IT market is tightening its belt again, say the prognosticators at IDC. A slowdown in spending in China has made them go back and re-examine their forecasts for spending on hardware, software, telecom, and services for the coming year and out to 2017.
While this is nothing like the massive cuts seen during the Great Recession, IT vendors and CIOs alike were probably thinking they might have slightly higher budgets than it looks like they'll end up with as 2013 comes to a close.
IDC's latest forecast, which measures spending in local currencies converted to US dollars without currency inflation and deflation taken into effect, now calls for core IT spending to bust above $2 trillion for the first time ever, rising 4.6 per cent. However, a projection from earlier this year pegged growth for the year at 4.9 per cent, and that's down from 6 per cent growth in 2012. A few tenths of a point of growth or decline has tens of billions of dollars in the balance, so small changes add up to real money real fast.
Adding in telecom and data services fees – what IDC calls the information and communication technologies, or ICT space, collectively – expands the market considerably. For 2013, IDC is now projecting that this ICT superset market will grow by 3.8 per cent to $3.6 trillion in 2013.
The chart below shows the growth or decline in the broader ICT spending each year, with mobile devices in the mix and with them taken out. As you can see, there was not much of a different in the growth rates before the Great Recession, but for a variety of reasons, between 2010 and out through 2015, the ICT market is relying on mobile devices to spur growth across all of the economies.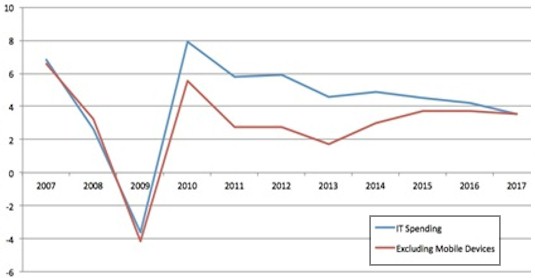 IT spending growth with and without mobile devices
Interestingly, IDC projects that by 2017 there will essentially be no acceleration effect from mobile devices, presumably because smartphones and tablets will reach a natural equilibrium with PCs and servers in the coming years, just as PCs and servers did in earlier times when they were the two main engines of IT spending.
The forecasting at IDC is led by Stephen Minton, vice president of its global technology and industry research organization, and as in years past, the uncertainty about regional economies is causing forecasting woes for IT vendors, customers, and forecasters alike. (We are all, in a sense, forecasters as we participate in the IT market in our various ways.)
"With the economic outlook uncertain for the second half of this year, we remain focused on the downside risks associated with China and Western Europe," explained Minton in a statement accompanying the projections. "IT spending in Europe remains tepid by any historical standards, with overall growth of 2 per cent driven entirely by mobile devices. Excluding phones and tablets, IT spending in Western Europe will in fact decline by 0.4 per cent this year."
That sounds pretty anemic, even by European standards.
Minton doesn't want to just blame Europe, though. Capital spending in China and other emerging markets is weakening, and the shift from PCs to tablets and from traditional sales of software and IT services to cloudy apps are both causing downward pressure on overall IT spending.
If the experience is better, then this is a good thing, of course. So lower spending is not by definition a bad thing, unless you sell PCs or traditional enterprise application software for a living, of course.
Minton said that in the US, corporate spending on tablets and smartphones has pumped up the market (and El Reg wonders how IDC can tell who is doing the buying when there is all this BYOD going on), but spending on other kinds of hardware and services sold into data centers is being trimmed. And just to make everyone feel like they are part of the problem, Minton said that expectations for IT spending growth have also been diminished for Canada, Western Europe, Brazil, and the broad Central and Eastern Europe, Middle East and Africa (CEMA) region. Ditto for the Asia/Pacific region (excluding Japan, which is rebounding from the March 2011 tsunami).
If you just look at core IT spending, without all the telecom services added in, then the burgeoning markets for smartphones and tablets account for more than half of the growth. And if you take them out, Minton says that core IT spending – for PCs, servers, storage, switching, software, and traditional IT services – will only grow by a tepid 1.7 per cent when measured in constant currency. The previous 2013 forecast for the spring was for 2.6 per cent growth in core IT spending not including these mobile devices.
IDC has actually bumped up its forecast for spending on smartphones and tablets for this year. The device counters now expect for spending on smartphones to rise by 18.5 per cent for all of 2013, up from a previous growth forecast of 17.2 per cent. (This is at constant currency.) And IDC now says spending at on tablets will rise by 39 per cent, up from the earlier 32.5 per cent growth forecast.
The problem is that the rise in smartphone and tablet spending is not enough to make up for declines in PCs and other wares. PC spending is now expected to decline by 7.2 per cent, which is much worse than the 2.6 per cent decline in the earlier forecast.
(El Reg contacted IDC to get hard figures for these spending areas, but the analysts had not yet returned our calls at press time. We will update this article when and if they decide to release actual dollar amounts for spending by category.)
Ominous for the key IT suppliers is the fact that IDC is projecting that worldwide spending on servers will decline by 3.5 per cent this year, and that spending on storage will only rise by 1.9 per cent. The server decline is expected, as there are major server processor transitions under way this year and virtualization and other effects are having their way with the server racket. But the decline in storage spending will no doubt cause trouble if it materializes. IDC had been projecting for 2.4 per cent growth this year for storage, and this was a lot less than the 6.5 per cent growth seen in 2012.
"Average price declines in the server and storage markets continue to pressure margins and revenues, while some of the pent-up demand which drove the 2010 to 2012 rebound has given way to a more subdued environment for capital spending," explained Minton. "There are still pockets of growth, but overall hardware investments are in a cooling phase, which will last until 2014 at the earliest."
On the relatively bright software front, IDC projects that by the end of this year, 10 per cent of software spending will have moved to cloudy services, and that software spending (including such SaaS offerings) will rise by 5.5 per cent in 2013.
That said, SaaS is eating into the services biz. If you don't have to install and customize the software, you don't have to pay a legion of consultants from IBM, HP, Accenture, Dell, and others. And consequently, IDC is lowering its overall forecast for global IT services spending (not including telecom services) to 3.4 per cent growth, down from an earlier 3.8 per cent forecast. Services spending is now expected to rise by only 2.9 per cent in the key US market, down from the earlier 3.7 per cent forecast. ®