The proposed settlement of the lawsuit against Apple by iPhone and iPad touch owners whose iDevices were unfairly denied warranty service when they incorrectly indicated water damage has not yet been approved by the court, but if you're one of those eligible for a payout, you can now get in line – well behind the lawyers.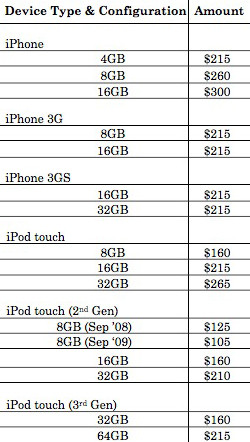 You might receive more, you might receive less
If you're one of those for whom a payout is due – a cohort that Apple enumerates as being "approximately 153,105" – a website is now available where you can register your claim to a slice of the $53m settlement that Apple agreed to in May.
As we noted at the time, the amount of those individual payouts as identified in the settlement ranges between $105 and $300, figures based on "the average amounts paid to Apple for replacement of each device type and configuration," according to the details of the settlement's conditions.
However, there's a chance that you might receive either less or more of those published averages, depending upon how many affected iDevice owners sign up for a chunk of that $53m. You may, in fact, be eligible for double the listed amounts – but no more than that, the proposed settlement admonishes – if not enough of the "Settlement Class Members" to deplete the pot register before the October 21 deadline.
Although the top possible award to an affected class member is capped at $600 – a nice little windfall, if you weren't expecting it – the real winners in the settlement are the lawyers who argued the lawsuit, which was filed in May 2010.
According to the settlement docs, the lawyers are asking the court to allot up to 30 per cent of the $53m to them for attorneys' fees, costs, and expenses. They were also kind enough to do the math for the court – that award would total "up to $15,900,000."
Don't for a moment think that the lawmen are being unnecessarily rapacious, however. They also ask that the court award additional "incentive payments" over and above the standard settlement fees to the plaintiffs who originally brought the case. How much? A princely $1,000 each – 0.006 per cent of the proposed lawyers' fee. In addition, since two of the plaintiffs are a couple, they'll only get $500 each.
The court will make its opinion known at the "Final Fairness Hearing", to be held in San Francisco on January 29, 2014. ®
Similar topics