Two charts show the essence of storage biz Quantum's problems: declining revenues are converting profits into deepening losses. But could 2014 be a breakout year?
First, here are the quarterly revenues for fiscal years 2011 to 2013: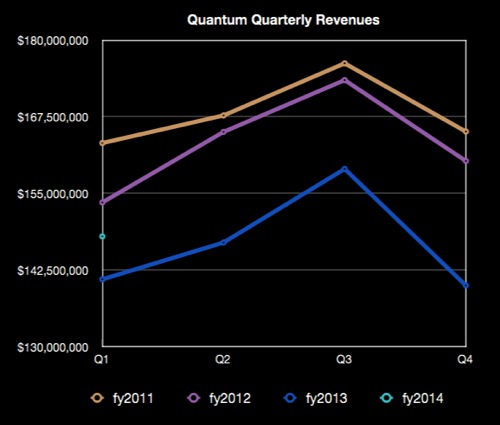 What happened? Quantum quarterly sales reducing over the years
We see three lines, one each for fiscal 2011, 2012 and 2013, nestling one under the other and matching in shape; Quantum's results show a pronounced quarterly pattern rising from the first quarter to the third and then falling back. The lines are the way they are, with 2012's being under 2011 and 2013's being under that for 2012, because Quantum's revenues have been steadily falling.
During this time, the management has been energetic and forceful: new product introductions and a constant effort to get as much revenue as possible from the declining tape market while building replacement revenue streams from deduplication (DXi), virtual machine backup and big data file management (StorNext).
The next chart shows Quantum's quarterly profits/losses over the same period: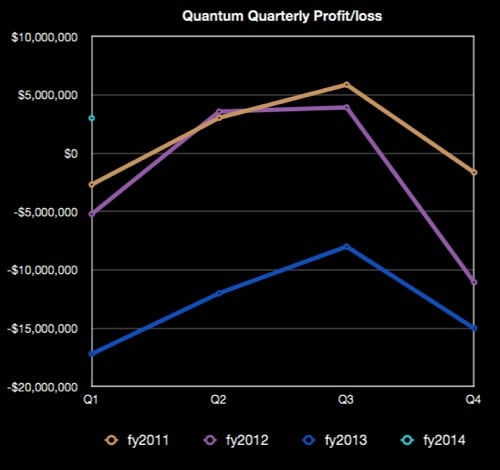 Descending ... Quantum's quarterly profits and losses
It is almost a replica, shape-wise, of the first chart, with the same pronounced seasonal pattern, apart from 2012's rise in the second quarter above 2011. Apart from that, profit from 2012 was less than 2011's, and 2013's was smaller than 2012's. In this period of twelve quarters Quantum made a profit in only four of them.
We can see that, despite Quantum's efforts, which have involved cutting staff and other cost-saving measures, the company is sinking deeper into the bog in which it is stuck. There is no doubt whatsoever, of course, that had management been less effective Quantum would be in a far, far worse position.
One problem is that suppliers in the storage market compete fiercely: they take no prisoners; they innovate fast; they react to server and network developments; and they meet startups out to break their business models into smithereens. The weaker companies have to drive themselves twice as hard to make half the progress.
Look closely at the charts and you'll see a small light blue circle on the left axis; this is the first quarter value for fiscal year 2014. It's breaking the mould. Is 2014 going to be the year Quantum's management efforts bear fruit and the company stops shrinking and starts growing?
Fiscal 2014 first quarter results
For its first financial 2014 quarter, ended June 30, revenues were $148m, a five per cent hike from a year ago, and $8m more than the previous quarter. Then there was, wait for it, a profit of $3m, the first profit in six quarters.
But not everything we see is what it seems to be. There was an intellectual property deal between Microsoft and Quantum, with the Windows 8 giant paying a one time royalty fee of $15m. If we take that away from the revenue and profit numbers we can see how the underlying business performed.
Revenue would have been $133m, $2m less than the bottom end of Quantum's revenue outlook for the quarter of $135m to $145m. That $133m would have been $8m less than the year-ago quarter, 5.6 percent down, and $7m less than the immediately preceding quarter's $140m.
The $3m profit for the quarter would turn into a $12m loss, better than the year-ago quarter's $17.2m and better than the preceding quarter's $15m; so that is real progress.
Quantum's results statement said it saw "revenue of $31m from disk system and software sales (including related service), a 2 per cent increase over fiscal Q1 2013 driven mostly by growth of 23 per cent in midrange DXi revenue and 13 per cent in big data sales [StorNext]".
CEO and president Jon Gacek said: "We also significantly improved our gross margin rates and operating income … Moving forward we will maintain our balanced approach of driving revenue growth and spending wisely to generate cash and profit. This will include the continued expansion of our data protection and big data management offerings for physical, virtual and cloud environments."
The company said overall revenue from sales of its Scalar i500 tape library passed the $1bn point this quarter.
Earnings call
But the earnings conference call with Quantum's top brass and analysts provided darker shades of colour to this picture:
Enterprise-class DXi sales were weak, particularly the DXi8500 with low sales into the installed base and large deals that didn't close.
There were 105 new DXi customers in the quarter with the overall deal win rate being nearly 55 per cent.
Gacek said: "After two record DXi quarters in a row, the last two quarters have not yielded the results we expected."
He added: "Our real issue this quarter and last has been DXi," where Quantum is competing against the dominant dedupe player, EMC's DataDomain. It's trying to broaden its channels and revitalise its entry-level product with new entry-level DXi offerings coming later this year - but a refresh at the top end would seem to be a good idea too.
Lattus products were shipped to customers in the quarter but not soon enough for the revenue to be formally recognised. That will come in the next quarter.
There was a year-over-year revenue decline of $5.8m in tape automation systems. Chief financial officer Linda Breard said "year-over-year revenues were down in the high single digits to low teens across our Enterprise, midrange and entry-branded tape automation business. … There were just fewer deals in this quarter than" a year ago.
Tape library manufacture has been outsourced to BEI, which already makes the i500, to save cash.
We were told StorNext software and appliances, revenue including maintenance increased 13 per cent year-over-year. StorNext AEL, server-based appliances and related disk revenue combined, increased over 60 per cent from Q1 to the prior year. This growth was somewhat offset by standalone StorNext software sales, which declined over Q1 of last year due to one large deal in Q1 2013 that was not repeated in the same quarter this year.
All this StorNext growth was partially offset by a four per cent decline in disk systems and related maintenance compared to the same quarter last year.
Overall problems
Gacek said of Quantum's overall revenue problem in the quarter: "It was about go-to-market and sales execution."
Sales head Ted Stinson left in the quarter to join a startup, PernixData, and that can't have helped.
One analyst on the call, Craig Hallum, asked bluntly: "Do you still think all these [Quantum] businesses make sense together?"
Gacek said they did, adding: "I think from a logic perspective, data protection is logical and our two products fit together in that market. And then Big Data is a market we've been in a long time."
He acknowledged Quantum had to try harder: "We're going to drive for profitability because last year was not the result that we wanted. We're trying to balance that from growth. We got growth, not as much as if we would have gotten it if we spent more. But we're not going to spend more, we're going to execute better."
Part of it is expanding its roster of partners. Quantum will "partner with people who are more of ISVs who take our solution and bundle it in with other parts that they sell, which gives us a lot of leverage. We're up 90 per cent in new partners in North America. I think we're farther along in North America with partners and we're probably farther along in Europe with ISVs depending on which market you're in. …. We're a channel company today and 90 per cent of the business is through the channel."
The outlook for the next quarter is $135m to $140m; no dramatic change from the first quarter. At this point 2014 looks like it will be like 2013; no obvious breakout moment in sight. ®