This article is more than 1 year old
Sergey Brin's 'test-tube burger' cooked, eaten, declared meat-like
It helps if you ignore the odd color and funny taste
The first burger made from cultured beef grown in a laboratory was publicly cooked and eaten in London on Monday, and test subjects have pronounced the result "close to meat."
The burger was the brainchild of Professor Mark Post of Maastricht University in the Netherlands, who constructed the artificial patty from 3,000 strips of muscle tissue grown from stem cells harvested from a live beef cow.
In all, the effort is said to have cost £250,000 ($383,875), which the BBC reported on Monday was underwritten in large part by Google cofounder Sergey Brin.
At a press event in London, chef Richard McGeown of Couch's Great House Restaurant in Cornwall pan-fried the burger and served it to American food author Josh Schonwald and Austrian food researcher Hanni Ruetzler, who weighed in on the five-ounce fast food feast.
"I was expecting the texture to be more soft," Ruetzler said. "There is quite some intense taste; it's close to meat, but it's not that juicy. The consistency is perfect, but I miss salt and pepper."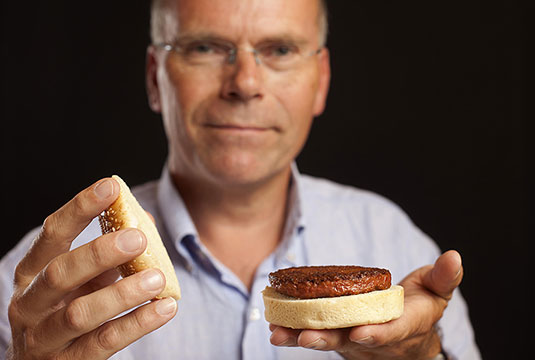 It may not look like much yet, but Professor Mark Post sees a bright future for cultured meat
Schonwald added, "The mouthfeel is like meat. I miss the fat, there's a leanness to it, but the general bite feels like a hamburger. What was consistently different was flavour."
That last part is a work in progress. To help make the tube-grown meat more palatable, Post and his team mixed the meat strips with egg, breadcrumbs, salt, caramel, and saffron. The test subjects weren't able to detect those ingredients in the final patty, but the overall taste was apparently less than convincing.
The look of the cultured meat needs some tweaking, too. What Ruetzler and Schonwald ate on Monday was a deep reddish color, like beef from the butcher, but that was only because the boffins had colored it with beet juice.
Fresh from the petri dish, the in vitro beef looks white. Post says his team is working on making it look more like what meat eaters expect by adding the protein myoglobin, which occurs naturally in the muscle tissue of living animals, but the process is not yet perfected.
As for when cultured meat might make it to supermarket shelves, however, Post said, "I think it will take a while." He added, "This is just to show we can do it."
While most research into growing tissues from stem cells is aimed at developing new medical treatments, Post is interested in cultured meat to address what he describes as a growing global food crisis. The world's appetite for meat is growing, he says, yet humans already use 70 per cent of worldwide agricultural capacity to provide feed for livestock. Growing meat in the lab could help relieve some of the environmental and economic pressures created by traditional farming.
But critics of Post's approach say it would be better to convince people to eat less meat – consumption of which has been linked to various health problems – than to produce more of it. Moreover, the claim that the world cannot produce enough food by traditional means has been called into question.
"We have a situation where 1.4 billion people in the world are overweight and obese, and at the same time one billion people worldwide go to bed hungry," Professor Tara Garnett of Oxford University's Food Policy Research Network told the BBC. "That's just weird and unacceptable. The solutions don't just lie with producing more food but changing the systems of supply and access and affordability, so not just more food but better food gets to the people who need it."
Soylent, anyone? ®