Amazon.com may have started out selling books, but it soon branched out into CDs, DVDs, software, electronics, apparel, and more. Now the world's largest e-tailer has taken an upscale turn with the debut of Amazon Art, a new online marketplace for fine artworks.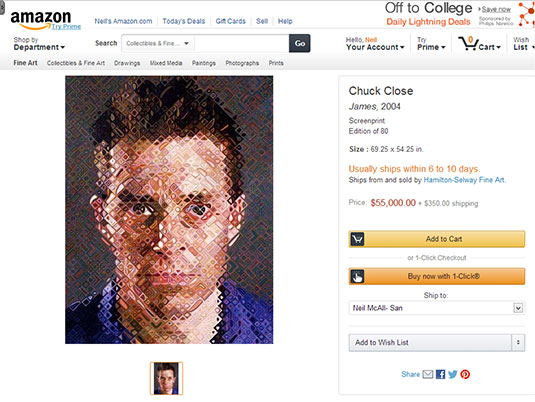 Your next wall decoration could be 'Buy now with one click' away
"We are excited to bring one of the largest selections of fine art direct from galleries to our customers," Amazon VP Peter Faricy said in a canned statement on Tuesday. "Amazon Art gives galleries a way to bring their passion and expertise about the artists they represent to our millions of customers."
The new department – currently in beta on Amazon's US site – boasts more than 40,000 artworks from more than 4,500 artists, represented by over 150 galleries and dealers across the US, Canada, the UK, and the Netherlands.
As with other sections of the site, shoppers can search for artists and works by name, in addition to filtering their results by such factors as size, price, subject, gallery, style, and even color.
In addition to large images showing what each artwork looks like in detail, many items also feature a smaller mock-up depicting what the work in question would look like hanging in a typical room, complete with a chair and ottoman for size-comparison purposes.
Prices of the artworks listed vary widely, ranging from $80 for a lithograph of a work by naturalist John James Audubon, to $8,500 for a limited-edition woodcut of colored spots by Damien Hirst, to $200,000 for an original screenprint of Chairman Mao by Andy Warhol, on up to $4.85m for an oil painting by Norman Rockwell.
Shipping rates vary. Because Amazon is facilitating sales by galleries, rather than carrying the art in its own inventory, artworks aren't eligible for the e-tailer's free Super Saver Shipping – but some galleries do factor shipping into their prices.
The fine art section is also semi-integrated with the rest of the Amazon store, for those times when you're shopping for the aforementioned Rockwell painting, say, but you could also use a Rockwell RK3440K VersaCut Circular Saw.
Just be careful with your mouse buttons while you shop. Amazon's fine arts listings are set up like its usual product pages, complete with an "Add to Cart" button and – yes – "Buy now with 1-Click." ®