This article is more than 1 year old
KingSpec's 2TB Multicore PCI-E SSD whopper vs the rest
Scorching speeds shootout, if you've money to burn
Review Earlier this year we took a look at SSD caching, an alternative way of getting some SSD performance added to a system without too much strain put on the finances. So how about a gander at the other end of the spectrum – huge capacity and performance and a total disregard for the budget
Enter the KingSpec Multicore MC1S81M2T, a 2TB PCI-Express SSD costing a mere three-and-a-half grand.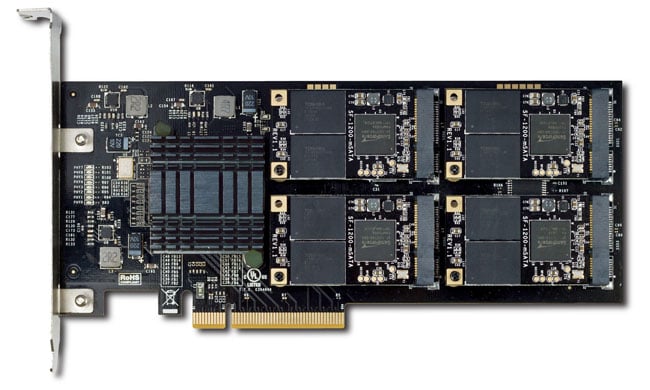 KingSpec Multicore MC1S81M2T 2TB PCI-E SSD
KingSpec may be a new name to a lot of people, but it has been producing flash-based drives since 2005. It is only recently that its products been available to buy in the UK, though.
Available by special order only from UK distributors Quiet PC, the MC1S81M2T is KingSpec's current flagship from the PCI-E SSD range – which also includes 1TB and 500GB versions for a good deal less.
This SSD is a monster of a card with eight of the company's 240GB mSATA drives (each drive using 25nm MLC NAND) bolted on to a PCB and then built into a RAID 0 array to deliver its 2TB capacity.
Each of the drives features a dedicated LSI SandForce SF2281 controller and the whole shooting match is controlled by a LSI SAS2008 SAS controller (6Gbps SAS/SATA, 8x PCI-E interface).
So, to recap, that's eight LSI SandForce controllers feeding a SAS controller going through an 8x PCI-E slot on the motherboard, all of which gives the MC1S81M2T some pretty astonishing headline speeds.
Ignoring for a moment the quoted sustained read speed of 4GB/s, which is the theoretical read speed, the actual read speed achieved in tests is still pretty mind-blowing: a whopping 2.59GB/s (yes that's GB/s not MB/s) reads and 2.36GB/s writes.
6Gb/s brickwall
So why go down the PCI-Express bus route? Well, the figures speak for themselves. And yet for really large capacity coupled with high speed transfer rates, good old SATA interface doesn't quite cut the mustard anymore.
Hence, the attention turns to some other form of interface, namely the PCI-Express bus of the motherboard. The current crop of PCI-E based drives are an indication of where the future lies for the performance SSD. While the 6Gbit/s SATA interface – once the godsend for the performance SSD – is now its Achilles heel, as even mainstream drives can now almost flood the interface.
The next generation of drives will almost certainly be based around SATA-Express. The specification is currently undergoing the SATA-IO (The Serial ATA International Organization) ratification process, with drives hopefully appearing in late 2013 early 2014.
Using the PCI-E bus will allow drive interface speeds of up to 1GB/s per lane as opposed to the 0.6GB/s of the current SATA interface. Eventually the technology should see storage devices with up to 16Gb/s interfaces.