Don't get caught in the wrong bus lane
One thing to be aware of is that with the PCI-E based SSD, you have to match the card's interface with the correct speed of slot to get the best performance from it. For instance, if it's a x8 PCI-E card, sticking it in a x4 PCI-E slot will slow it down.
Sounds simple enough, but you have to read up on what speeds your motherboard PCI-E slots supports. These days a motherboard that supports either CrossFire or SLI graphics setups will have at least two PCI-E slots running at x16 speed. However, what happens when one slot is filled with a graphics card is the thing to look out for; what speed do the remaining slots run at? You'll need to check.
As was stated earlier, KingSpec quotes "estimated" figures for sustained reads for the MC1S81M2T of 4GB/s and sustained writes of 2.4GB/s. Interestingly, while the company's quoted figures for the read performance were not replicated in tests, the write figure claim is very close to what was achieved when the drive was tested with the ATTO benchmark – 2.36GB/s writes. The read performance, meanwhile, was a still-impressive 2.59GB/s. The fact that the drive would rather deal with compressed data (a Sandforce preference), is neatly shown by the sequential read/write figures for the AS SSD benchmark.
When tested with the default incompressible data setting, the drive produced figures of 1.930GB/s and 1.198GB/s for the read/write respectively. Switch over to the compressed data usage model, and these figures jumped to 2.14GB/s for read and 2.11GB/s for write.
Staying in compressed data mode, the 512K test in Crystal Disk Mark produced 1.210GB/s read and 1.445GB/s write speeds.
So the KingSpec MC1S81M2T fires large files around with reckless abandon, but when it comes to dealing with the small itty bitty files of everyday use, it is, to be brutally frank, woeful in comparison.
Take the results of the 4K test in Crystal Disk Mark. The KingSpec card delivers a read score of just 33.31MB/s and writes of 69.4MB/s. In the case of the 4K Read performance, this isn't that much faster than a single Crucial M500 960GB drive (25.21MB/s) with the Crucial drive actually faster when it comes to 4K Writes (75.63MB/s).
CrystalDiskMark 4K benchmark results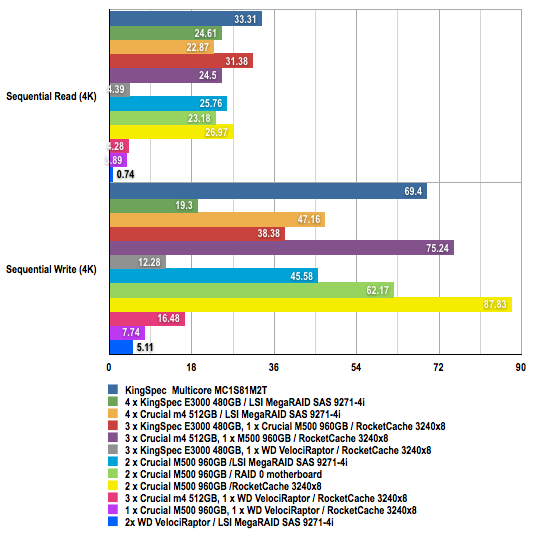 Data transfers speeds in megabytes per second (MB/s)
This shouldn't really come as a surprise though, as the MC1S81M2T is a card designed for working on large files in workstation and server environments, not small Windows files on desktops. Even so, it's still pretty shocking to see such a performance drop. Oh and don't think for a minute that the MC1S81M2T offers a lightning fast boot time either, quite the opposite, in fact. The card comes with its own BIOS, adding more layers to the boot sequence.