This article is more than 1 year old
Microsoft unveils push-button app generator for Windows Phone
So easy, anyone can do it – but will they?
Microsoft would like to see more mobile apps in the Windows Phone store, and to that end it has launched a new online tool that it claims makes it possible for anyone to build their own app for the Windows Phone platform.
Windows Phone App Studio, now in beta, is a web-based wizard that lets you create your own HTML-based mobile apps with just a few clicks in your browser, either by starting from scratch or by working from a handful of prepared templates.
"Windows Phone App Studio is about giving everyone the ability to create an app, regardless of experience," Emilio Salvador Prieto of the Windows Phone team said in a blog post announcing the tool. "It also can radically accelerate workflow for all developers."
To get started, all you need is to log in with a Microsoft account. You don't have to be a registered Windows Phone developer to use the App Studio.
According to Redmond, the whole process is as simple as four steps: have an idea, add content, choose style (such as color), and use the app.
In practice it's a bit more complicated than that, particularly if you want to start from a new empty app. The idea is that you can set up a few simple screens and menus, then draw content from external sources such as RSS feeds, YouTube, or custom HTML to produce a finished app. But marching yourself through all the requisite steps and making the right choices to generate anything useful might take longer than you'd want.
To address this, Microsoft has included a set of templates for typical apps you might want to build, including apps about your company, hobbies, favorite sports team, favorite band, reviews of movies you've seen, and so on. At launch, there are 13 templates available in all.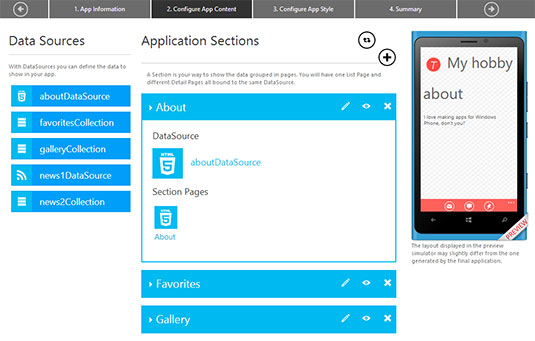 Your next million-dollar app is just a few clicks away – million dollars not included
While you're putting your app together and assigning content feeds, the tool shows your progress with a WYSIWYG layout preview that updates with each new change you make.
When you're done, the tool will export your app in a file format that can either be uploaded to the Windows Phone store or installed on your own phone for testing.
In the past, you'd need to have registered as a Windows Phone developer to install apps onto your own device. But beginning on Tuesday, Microsoft is allowing anyone to unlock and register a single Windows Phone as a testing device and load up to two apps on it, without joining the developer program. Registered developers can unlock up to three devices and load as many as 10 test apps on each.
You'll still need to join Microsoft's developer program to upload your app to the Windows Phone Store, but if you move fast, you can do so at a discount. Redmond has priced a year's Dev Center subscription at $19 (or the equivalent outside the US) – down from $99 – through August 26.
While this is all well and good, however, this Reg hack can't help note that the apps produced by the App Studio are fairly crude. The intended end product doesn't seem to be much more than "brochureware" – like a web site that offers a few pages of information but no real interactive content. It's hard to imagine that Windows Phone owners would want to install many of these, rather than just pulling up the corresponding web page in their mobile browsers.
Microsoft suggests that more-experienced developers can use the App Studio for "rapid prototyping," then enhance their apps by adding additional features by hand in Visual Studio. But even this seems like an unlikely scenario, given how uniform and unimaginative the generated app UIs look.
Still, this might be as good a means as any to drum up more interest in the Windows Phone developer ecosystem – and more interest is something Microsoft certainly could use. On last count, Microsoft claimed there were 160,000 apps in the Windows Phone Store, compared to more than 900,000 in Apple's App Store and roughly 1,000,000 Android apps in Google Play. ®