+Comment Europe's top business eurocrat Neelie Kroes has expressed her shock that poor Romanians pay less for phone calls than wealthy Germans. Her office highlighted the disparity and used the figure to call for greater regulatory intervention by the European Commission (i.e. Neelie Kroes).
The European Commission vice president highlighted figures showing a 774 per cent difference in the average cost of a one-minute phone call. Luxembourg (14.6 euro cents) and the Netherlands (14.7 euro cents) was at one end of the scale, and Lithuania (1.9 euro cents) and Romania (2.2 euro cents) and Latvia (3.5 euro cents) at the other.
Suppliers charge what the market can afford – so it's worth looking at the relative disposable income of the EU member states. When we do that, we find that the average annual take-home earnings (after tax and deductions) in 2011 (the last year in which we can make a comparison using EU stats) were €26,540.91 (€29,114 in 2012) in Germany and €28,016 in Luxembourg, with the average across the wealthiest 16 member states of €21,524.
Meanwhile, annual take-home pay was €2,558 in Bulgaria, €3,836 in Romania, €4,555 in Lithuania and €5,315 in Latvia. [stats]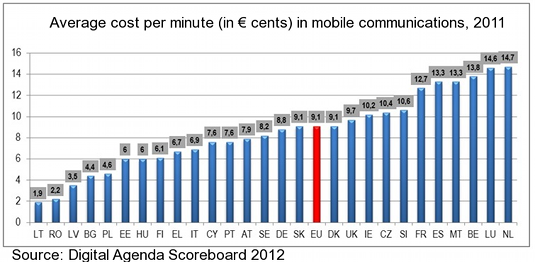 However, the EU's press release points out the disparity in mobile phone rates is greater than for other goods.
"There are much smaller price differentials in other categories of basic goods and services in the European single market. For example, a litre of milk can be bought for between €0.69 and €0.99 wherever they are in the EU, a price difference of 43 per cent."
The Commission's press release continues: "An occasional purchase like an iPad is subject to only an 11 per cent price difference across the EU."
No shit, Sherlock - and why might that be?
Again, this is the result of relative earnings, and the state of competition – and other market-distorting factors such as subsidies. Take Romania: it has a competitive market with consumers expressing higher-than-EU-average satisfaction with their three mobile operators (Orange, Vodafone and Cosmote), while profits for each of the three firms in 2012 were one-third of what they were in 2008 - signs of a competitive market.
Apple can charge what it likes for the luxury iPad because the market does not yet consider cheaper rivals as substitutable - people don't think "I'll get myself a tablet", but "Perhaps I'll get an iPad". Apple is competing against other luxury items (like TVs) rather than other tablet manufacturers.
And Kroes could certainly have chosen a better example than farm produce such as a "bottle of milk" – as agriculture is subject to massive, market-distorting subsidies from … the EU. She does, after all, hold a degree in economics. ®